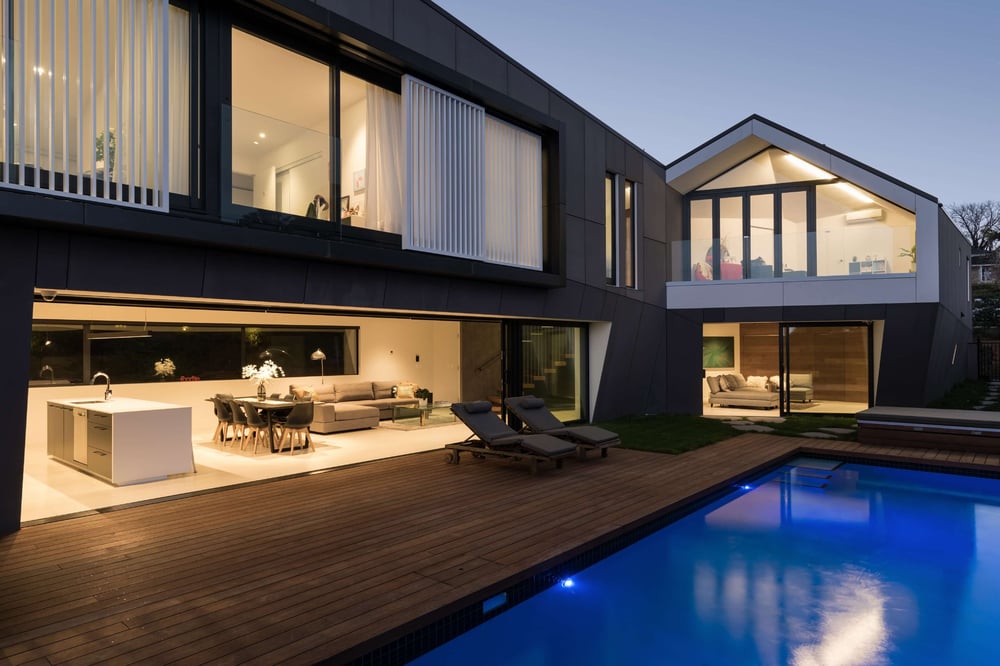 Sliding shutters are a common fixture on the exterior of many New Zealand homes and are a popular choice for many new builds due to their aesthetic appeal and practical benefits. While sliding shutters were traditionally only manually operable, advances in technology have resulted in sliding shutters that can be moved along the side of the home with the touch of a button.

If you're considering sliding shutters for your next home or project then it's important to know what your options are when it comes to sliding shutters so that you can choose the system that's just right. To give you some guidance, we've outlined some basic information around sliding shutter systems including how they operate and the different shutter infill options available.
Read on to find out more about sliding shutter systems and the Aurae range.
What are sliding shutters?
A sliding shutter will generally be found on the exterior of a property and will move from one set point to another. Sliding shutters are essentially panels that are normally constructed of louvre blades and are a great way to create extra privacy or add shade from the sun when required. Sliding shutters can also be constructed from laser-cut aluminium panels to create a signature design.

Homes with full-length windows for example may utilise sliding shutters to gain more control of their living areas – close them off for shelter from the sun or leave them open for extra ventilation. Sliding shutters are also an excellent way to close off an outdoor area and add some extra privacy.
How do sliding shutters operate?
Traditionally, sliding shutters have only been manually operable meaning you have to push them along to the desired point on your property whether that be outside a window or your living area. We're lucky though that as technology has advanced so too have the options to operate sliding shutters. For ease of use, many people will now choose electronically operable shutters.

Motorised shutter panels are perfect for people that have many sliding shutters on the exterior of their property, and in hard to reach places. Being able to simply slide the shutters along all by flicking a switch or through a setting in your home automation system is not only convenient but a big time saver too.
Types of sliding shutters
While panels with louvre blade infills are the most popular choice for sliding shutters, there are now a number of decorative options available too that are designed to make a statement. Here we've outlined some of the most popular choices for sliding shutters.
Fixed louvre blades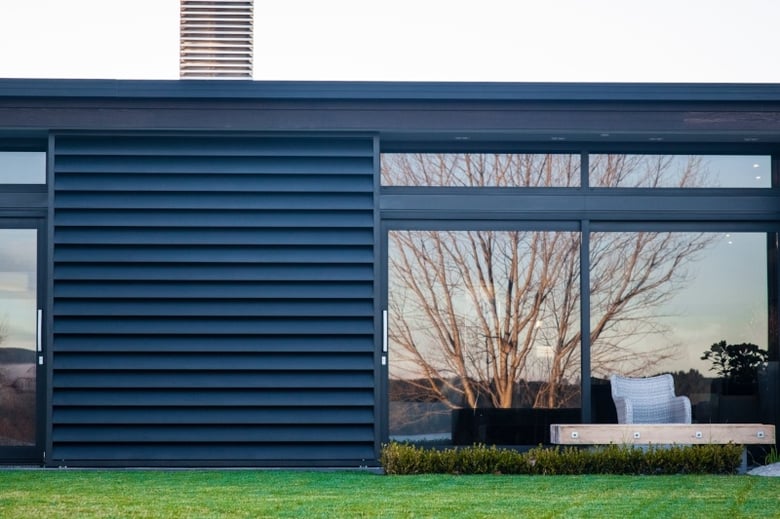 Sliding shutters with fixed louvre blade infills.
Fixed louvre blades are one of the most common infill options we see used in sliding shutters. Fixed louvre blades are just that – fixed in one place. The individual louvre blades cannot be moved which make them a good option for sliding shutters that will simply be added to a home for privacy purposes.

Most fixed louvre blades will come in various shapes. Our range of fixed louvre blades come in four different shapes ranging from rectangular profiles to blades with rounded edges, providing you with plenty of choice when choosing louvre blades for sliding shutters. Louvre blades can also be fixed on various angles and spacings giving you even more selection.
Operable louvre blades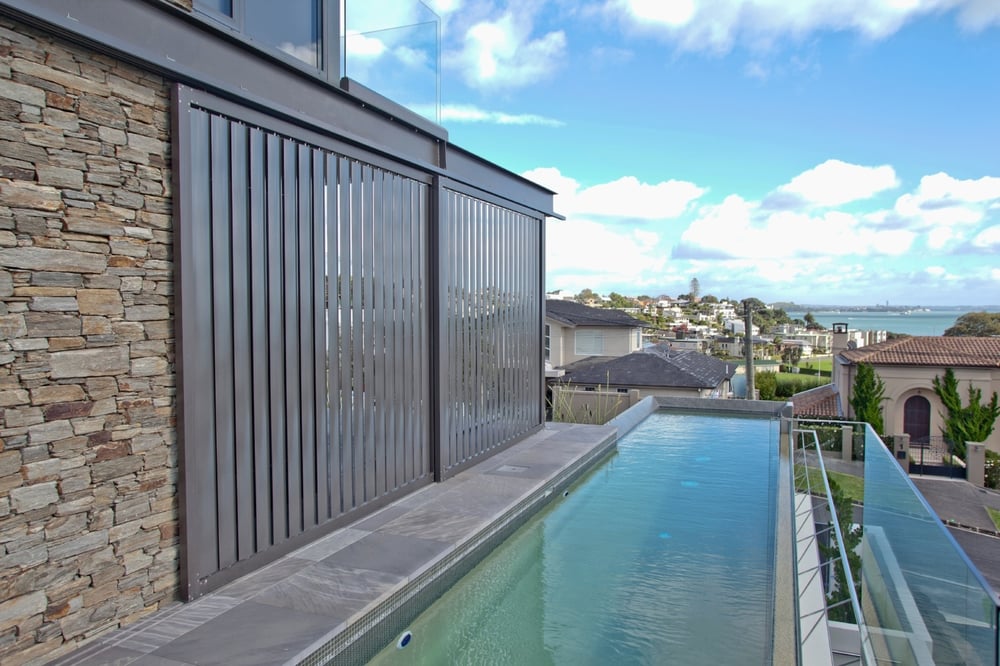 Sliding shutters with operable louvre blade infills.
Compared to louvre blades that are fixed in certain positions, operable louvre blades can be rotated providing you with greater flexibility. Operable louvre blades are most suited to sliding shutters that will be primarily used for shade control and ventilation purposes as they can be opened or closed at your leisure. In the warmer months for example, by leaving the windows open and opening up the operable louvre blades you can increase ventilation inside a home, and provide a bit of reprieve from the hot weather.

Our range of operable louvre blades come in a choice of three different shapes ranging from standard rectangular blades to blades with rounded edges.
Aluminium swaged grating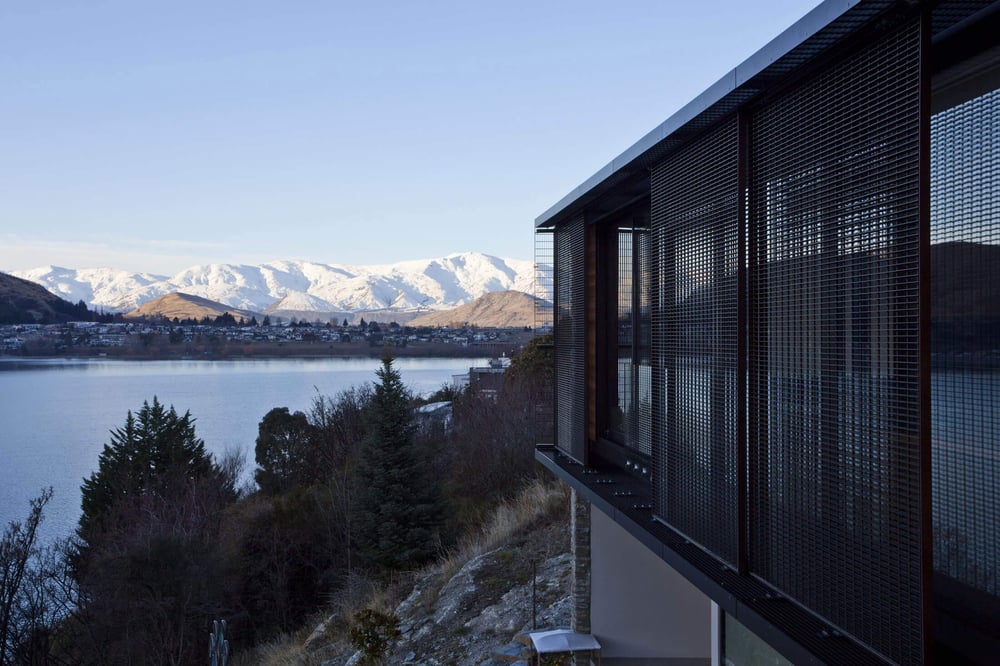 Aluminium swaged grating sliding shutters.
If it's a unique design element and practicality that you're after, then aluminium swaged grating could be the perfect choice for your sliding shutters!

Swaged grating screens consist of louvre blades swage-locked to a series of bearing bars. This structural layout gives the screens excellent span capabilities, while maintaining a slim profile – perfect for modern homes.

Our range of aluminium swaged screens are available in a number of different blade sizes and with powder-coat, or anodised finishes.
Perforated screens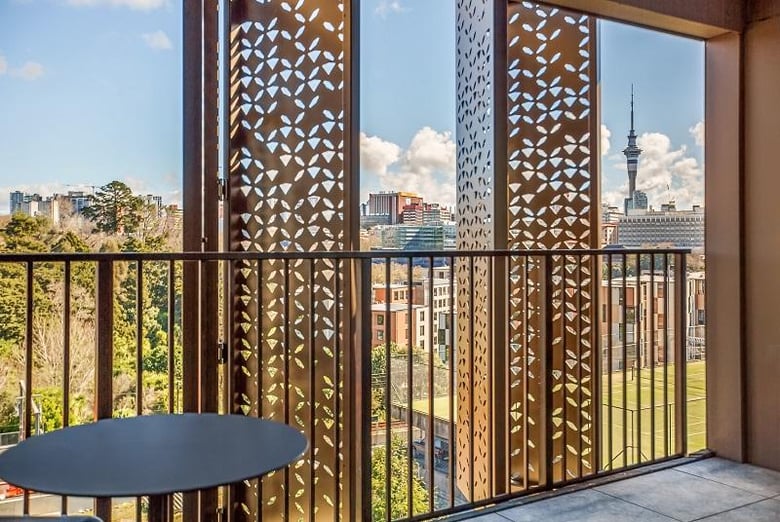 Perforated screen shutters.
Perforated screens are a unique and easy way to increase the aesthetics of a property and add a distinctive feature. While they can still be used to add some privacy to a home, they are more commonly used to make an architectural statement.

Like aluminium swaged screens, our range of perforated screens can also be completed in various powder-coat finishes. Perforated screens are also customisable with a range of different patterns available to choose from.
The Aurae range of sliding shutters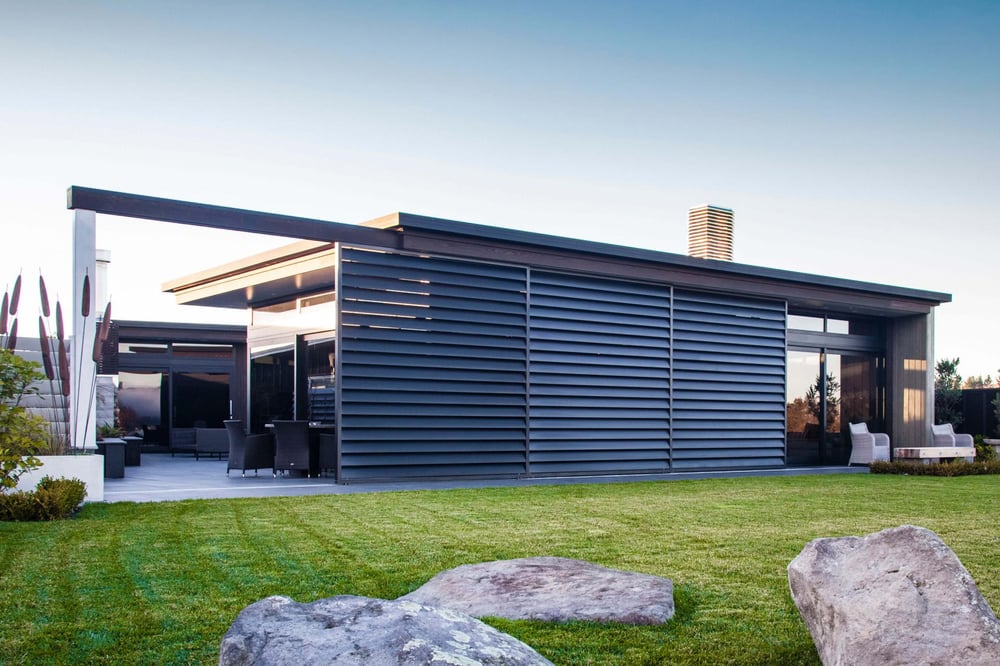 An Aurae sliding shutter system in a black powder-coat finish with louvre infills.
So whether it's standard sliding shutters with classic louvre infills, or something more decorative that you require, here at Aurae we'll work with you to find the sliding shutter system that's perfect for your project. Our comprehensive range of infill options also means that you're spoilt for choice, so whether it's functionality, privacy and weather control that you need, or something more unique that will make your property stand out from the crowd, you'll find the shutter system that's just right.

Along with a range of different shutter infill options you'll also choose from a variety of different hardware, fixing and latch details making our sliding shutter systems truly customisable to your project. For details on our entire range of sliding shutter systems we encourage you to view our free sliding shutters brochure that's packed full of information and technical details.

If you're not sure which sliding shutter system to use for your next project or you would like some advice on technical specifications then feel free to contact our team here. They can help to guide you through the process, and advise you on the sliding shutters that will work best for your project.