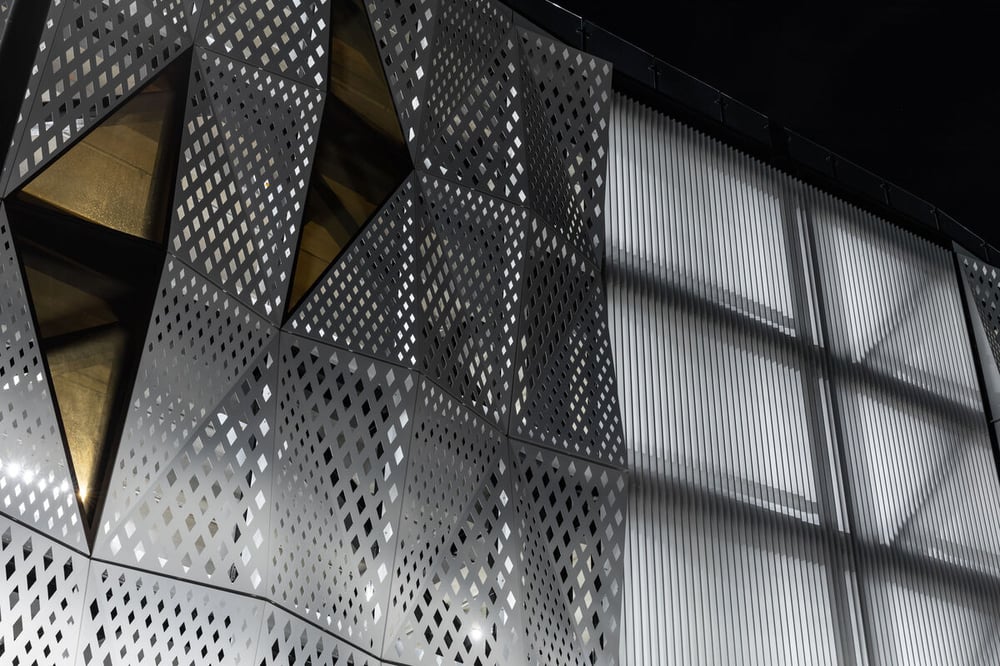 We've been working on something pretty exciting, and it's finally time to share our latest innovation! As architectural louvre and facade specialists, we saw a gap in the market for rigorously wind tested decorative screens that could be used on residential homes and properties. Our new range of perforated screens 'dapple' have been designed to enhance the exterior of a home, all while showcasing a choreography of light.
Learn more about the dapple range and some of the benefits of these perforated sheet metal screens, below.
What is dapple?
If you stand under a tree on a sunny day you're likely to see specks of light coming through the leaves and branches. These specks of light move with the leaves and branches and the resulting light effect can be quite mesmerising – what we like to call a dapple of sunlight.

We've applied the same sort of principle to the dapple range of screens. Thoughtfully designed in conjunction with Insol, each pattern showcases a unique design to enhance the sunlight. The dapple range of screens are commonly used outside on the exterior of a property and while they are frequently used for architectural x-factor, they're also used for privacy purposes, and as sun shading screens.

Anything that has holes or openings can whistle or make some noise in the wind and the resulting wind noise can become overwhelming. This is why all of our dapple screens have been rigorously wind-tunnel tested and assigned a performance rating for your peace of mind – the dapple difference.
The dapple wind rating system
As we've mentioned, the wind can have an impact on the noise that perforated screens and each individual pattern makes. When it gets windy some holes in the screens will whistle – it's unavoidable in any facade solution that contains holes. If wind isn't factored in at the design stage the noise can become particularly unpleasant. This isn't a noise that you want to hear inside a home or apartment!

It's for these reasons that we did extensive wind research when developing the dapple range – something that we feel sets dapple apart from standard perforated screens. The research conducted has led to the development of a wind rating matrix that quantifies the risk of potential wind noise along the entire dapple range. The rating system classifies the probability of noise and the associated level of annoyance.

You'll notice that the wind rating system not only shows the probability of noise from the dapple screens, it also indicates the level of wind noise and in which applications certain dapple patterns should or shouldn't be used. This all came from extensive testing inside a special in-house wind tunnel, specifically designed to mimic the typical conditions found across New Zealand. From ground-level partitions to privacy screens several storeys high, the dapple range has been put through its paces using technology typically reserved for advanced technical engineering.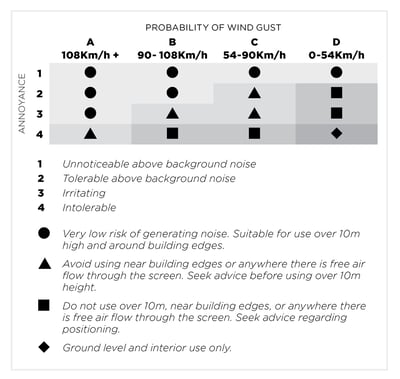 The dapple wind rating matrix.
The range of dapple patterns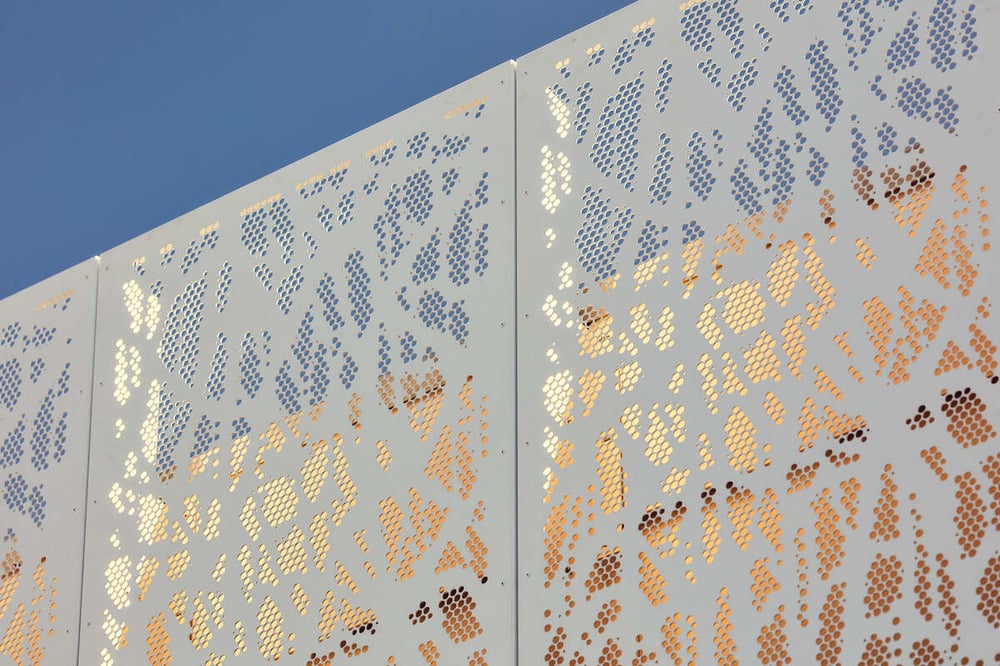 The dapple range consists of many different perforated aluminium patterns. Variations in shape, finish and texture are all available in this extensive range of decorative screens. Every pattern is designed, developed and wind tested with the help of Insol (who manage the commercial use of dapple screens), here in New Zealand. This extensive testing has meant that we've been able to create dozens of the highest quality perforated screens that are truly mesmerising not just in their individual designs, but in the way that they reflect light and shadows.

Each individual pattern also comes with its own wind noise rating so you know just how the screen will perform in your chosen application.

View the complete range of dapple patterns in the free brochure >
The range of dapple textures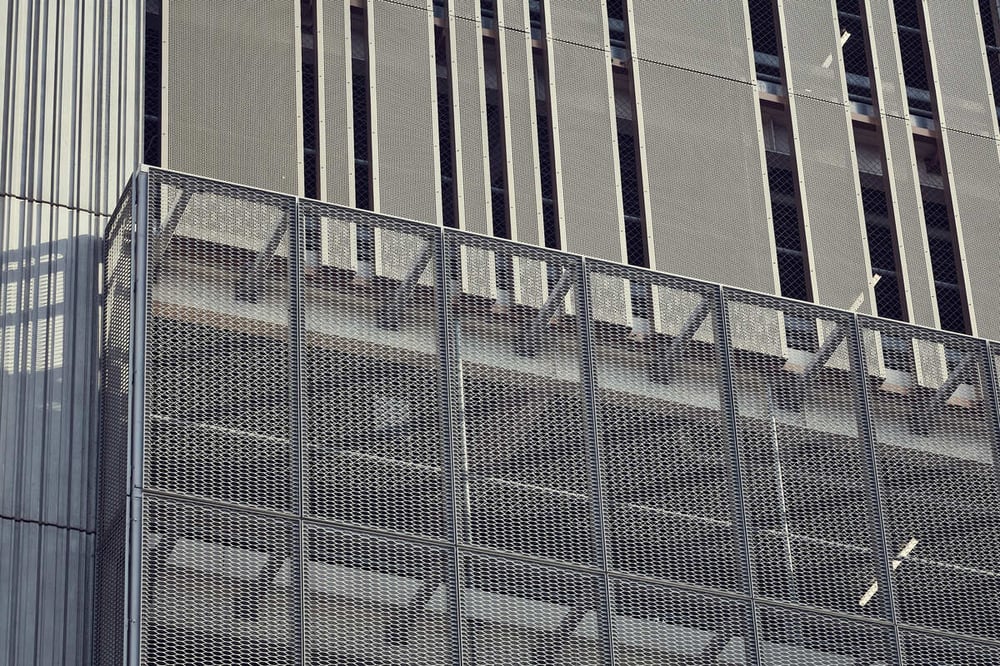 The dapple range also consists of textured patterns. These textures result in a distinctive, woven, three-dimensional appearance for added depth.

Each textured design is created as a result of sheet metal being slit and formed in one motion. No material is removed during this process. As with the range of dapple patterns, dapple textures are also designed, developed and wind tested by Aurae with the help of Insol, and come with their own wind ratings.


View the complete range of dapple textures in the free brochure >
Customise your dapple screens
While we have an extensive range of dapple designs already developed, we're happy to let your imagination run wild, and will work with you to come up with a customised perforated design that's bespoke to your requirements. Images can also be replicated in the perforated sheet metal designs through a unique arrangement of hole size and density. Any custom pattern that's created is also wind tested and given its own rating.
Use dapple perforated screens for your next project
Now that we've introduced you to dapple, you may be wondering why you should use dapple screens in your residential projects? There are many benefits and uses for perforated screens like the dapple designs. These include:
Create a private outdoor space.
Add sun shading to a home or property.
Add shelter from the elements such as rain, which could potentially weather a home.
Section off separate areas of a property such as a pool area or deck.
Add a unique architectural feature to the exterior of a home.
Add wow-factor to the facade of a property.
If you would like more information on the range of dapple patterns and textures available, you can find this in our free brochure

. Download your copy and get details on the entire dapple range including typical screen fixing details and specific wind ratings.





If you're ready to start using dapple now then we encourage you to get in touch with us so we can discuss your project and the dapple product that's right for you.