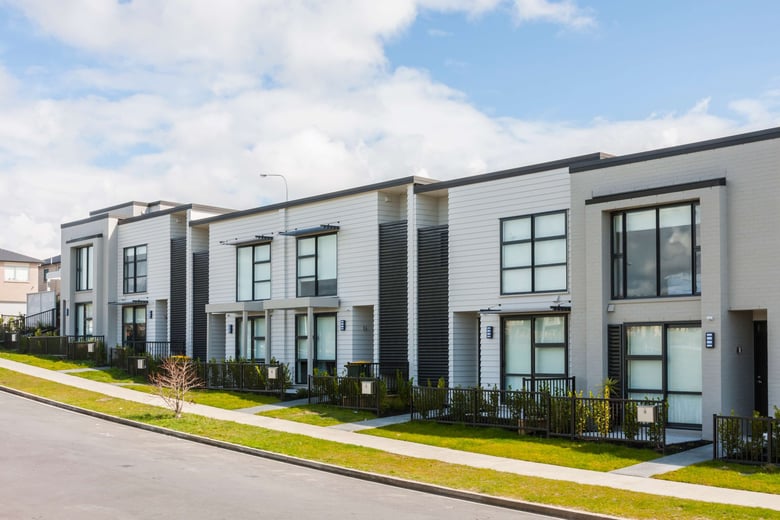 If you're looking for a stylish feature to add to the front of a new build or future housing development, then you can't go past an awning or an entrance canopy. Both awnings and entrance canopies have the ability to enhance the look and feel of a property, all while adding valuable protection from the elements like the harsh sun, wind and rain.

While similar in nature there are some small differences between awnings and entrance canopies and just how these would be used on the outside of a property to provide protection from the elements.
Read on to find out what the main differences are between an entrance canopy and an awning plus, we've also covered what building consent you may need for your next awning or entrance canopy project.
What's an awning?
An awning is typically a light piece of material that's attached to the side of a home; awnings are typically fixed above windows, doors or patios to provide shade. As awnings are designed to provide shelter from the sun or protection from the wind and the rain they can be used all-year-round to provide shade on hot summer days, or for shelter when the weather is unfavourable and you'd still like a bit of fresh air!

When positioned above a window, an awning has the potential to stop light from entering a home and potentially damaging furniture and carpet. Couches and carpet fading from the sun is a common problem that many homeowners face, when the home is exposed to all day sun. An awning can be a valuable investment that will not only keep expensive furniture and decor looking brand new, but it could also save you money from not having to replace these items as often in the future. Awnings are also great if a house gets too warm during the day thanks to the sun's energy spilling into the home. Without needing to pay for a source of heat-reflective technology an awning can keep your house cool during the summer months.

Awnings were traditionally fixed to the side of a home so would stay in place all-year-round. Nowadays and with advancements in technology, awnings can be made to be retractable allowing you the flexibility to have the awning up or down when you please. Many retractable awnings can also be automated so no longer require manual operation – a bonus for many who like the ease of putting up or taking down an awning with the touch of a button.
What's an entrance canopy?
Traditionally, canopies have been large free-standing shelters designed to provide shade and protection from the elements. They're often used in patio settings where the homeowners want to sit and relax at an outdoor table without getting burnt from the sun, or wet from the rain. Being portable, traditional canopies can be manoeuvred to various spaces around a backyard making them ideal for large gatherings like BBQs and family get-togethers.

An entrance canopy is slightly different when compared to a traditional canopy – while it's still designed to provide shelter from the elements an entrance canopy is smaller, and will be fixed above an entrance (generally a front door). Entrance canopies are usually constructed from either sheet metal or aluminium.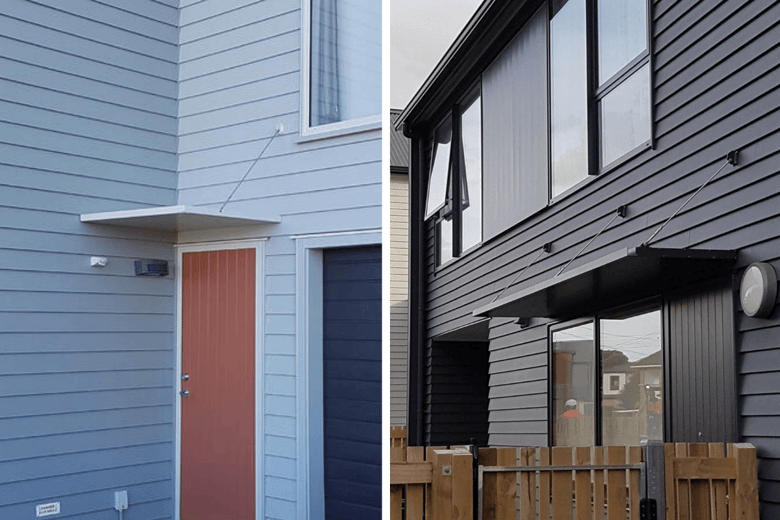 Entrance canopies can be fixed above doors and windows to add style and shelter to the front of a home.
Building consent exemptions for shade and awning structures
As you now know, awnings and entrance canopies are actually fairly similar – both structures are made from a lightweight material that is designed to be used over a window or a door to provide extra shade and shelter. It may surprise you to know that in many instances you don't need to obtain building consent to attach an awning to the ground-floor (or first-storey) of a building.

The New Zealand Building Act states that:
A building consent is usually not required to attach an awning (e.g. canvas or fabric) to the ground-floor or first-storey level of a building, if it is under 20 square metres in size.


Many councils like the Auckland Council define an awning as:
An awning is a roof-like cover usually made of fabric, or similar lightweight material, and positioned on a frame. Awnings are often used to shelter a window, door or the side of a building.

This definition means that smaller shading projects like awnings and entrance canopies can go ahead without having to go through the process of having to gain a building consent. This is fantastic news for homeowners and project managers who are in the final stages of creating a new home or housing development and who only need to add something like an entrance canopy over the front of the door.

It's important to note that all building and construction projects that don't require building consent must still comply with the New Zealand building code. If you're unsure whether you need building consent for a lightweight shelter like an awning or entrance canopy, it's always best to talk to your local council first to determine exactly what you need.

It should also be noted that while an entrance canopy may seem like a simple addition to a property, this doesn't mean you can add one on to just any home with ease. In most cases an entrance canopy will be buffeted by the wind and be required to drain water effectively. In some environments it may have to hold kilograms of snow, depending on its size. This means they often need additional structural support built into the walls to manage the loads they are exposed to. Retrofitting an entrance canopy is an extremely challenging task and one we are unable to help with. If you have a new build project or housing development however, read on!
Aurae entrance canopies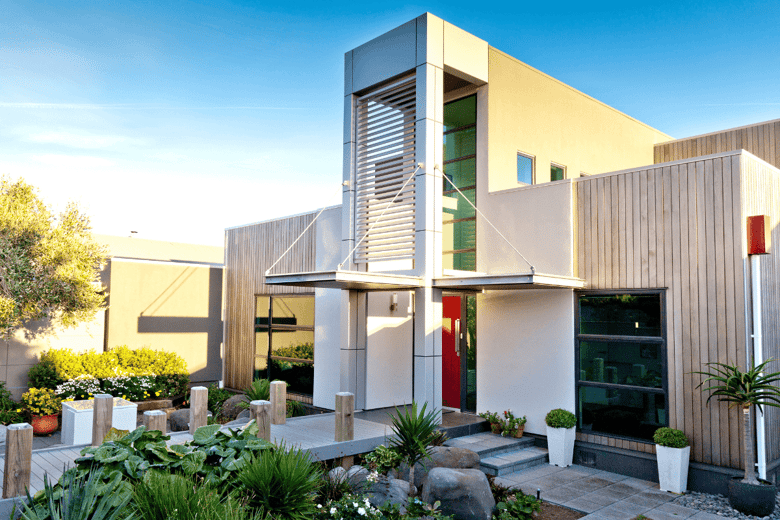 An Aurae entrance canopy will add protection from the elements, and make a house look good!

An Aurae entrance canopy is a great way to add a decorative feature and some shelter to the front entrance of a property. Simple and cost-effective, our entrance canopies are available in either aluminium or sheet metal and can be powder-coated in a wide range of different colours to suit the exterior of your property.
Our entrance canopies are also an easy way to add shelter over a building entrance and can be fixed through a range of popular types of cladding which include brick and weatherboard surfaces, making them a suitable choice for a range of different properties. The alternative is to build a structure that is part of the primary building structure, which can be much more laborious, and expensive.
For more details on the entrance canopy options available and for technical information click here.
If you would like to speak to our team about the range of Aurae entrance canopies and to see what would work for your home or future development then we encourage you to get in touch with us here.