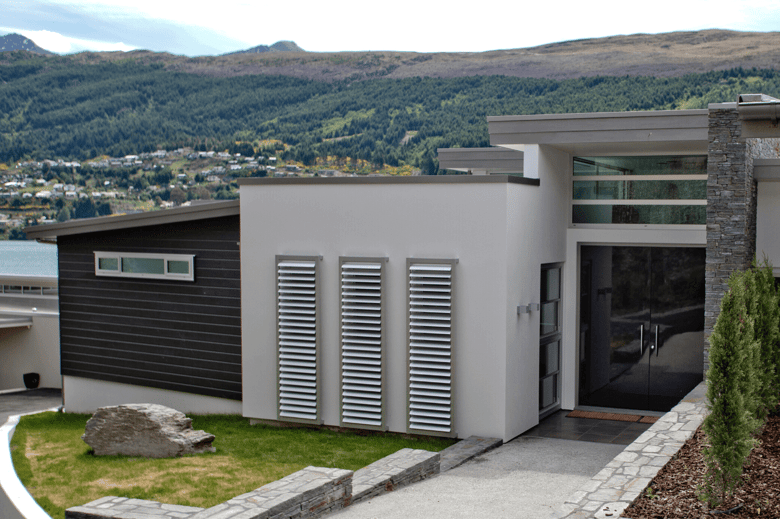 While some design trends come and go, there are those that stand the test of time. Shutters are an example of a design element that is here to stay. Traditionally found on older properties like villas and historic buildings, exterior shutters have been used for decades to provide protection from the elements or as a window treatment to provide extra security. While shutters can still be used for these purposes we are now seeing more and more that these are added to the exterior of many contemporary homes as a unique design element, or as a heating and cooling solution.

Exterior shutters can have a multitude of uses and benefits, depending on what is required of them. Find out about the different types of exterior shutters, and what shutters will work best for your property or next project.
What are exterior shutters?
A shutter is a window covering that generally consists of a frame and horizontal louvre blades. While shutters can be used in the interior of a property we more commonly see them used on the exterior of a property. Shutters can be made from different materials such as timber and aluminium and can often be painted the colour you require. There is also the option for exterior shutters to be static or 'fixed' to the property or alternatively motorised for ease of use.

Shutters are typically used on the exterior of homes to achieve even greater functional and architectural benefits. Shutters can be put on the sides of your outdoor area to create greater control over your outdoor living experiences and keep unfavourable weather out. They can also be used to cover windows for privacy or weather protection or put onto the side of your home for an architectural statement.
Types of exterior shutters
As shutters continue to grow in popularity, so do the different types available. Whether you're after shutters to improve the look of your property, provide privacy for your home or you need a way to protect the exterior of your property from the elements, there are a range of different types of shutters available to suit your needs.
Fixed Shutters
Fixed shutters refer to shutters that remain in the same position, so the louvre blades are fixed and cannot be adjusted. They will remain permanently open or closed. These types of louvres can be suitable for exterior applications where you're simply wanting to increase the aesthetic of a property. They are also great for adding privacy and security to a home as they cannot easily be changed or modified.

Fixed shutters are often found on the exterior of a property to add shade from the sun, extra privacy or to provide a unique architectural statement. Fixed louvre blades can also be added into things like sliding shutters that can be moved across easily to either close off your outdoor area or, extend your indoor area. It's common to see fixed shutters on beachfront properties or on homes with high foot-traffic as the desire for privacy and sun shading can be high. It's also common to see these attached to sliding shutters so owners can benefit from the view when wanted and then privacy at other times.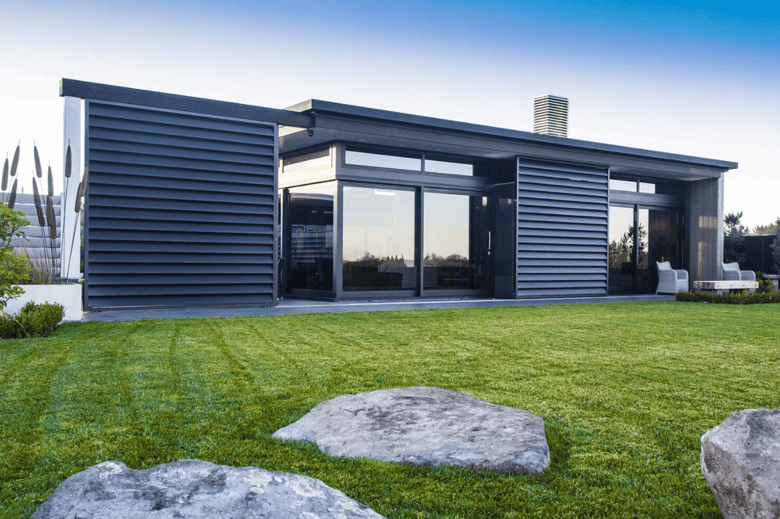 Fixed louvre blades were used on these exterior shutters for privacy and sun shade.
Operable Shutters
Operable shutters can be opened or closed at your leisure. They are the perfect way to provide versatile shading, privacy or a unique architectural statement to your property. The louvre blades used in the shutters can be rotated to provide you with excellent flexibility. With operable louvres you have the option of making louvres either manually operable or motorised. Depending on the location of your shutters and how frequently you will open or close the shutters will likely determine whether you go with manual or motorised functionality.
Manual
Manual shutters are those where the louvre blades can be opened or closed, but the action is done manually. Manually operable louvre blades are ideal for shutters that are easily accessible so it's easy enough for the occupants to open or close the shutters at their own leisure.

Manually operable louvre blades are found in a number of different types of shutters and are a more popular option than their fixed counterpart as they give you increased functionality and flexibility, particularly useful for homes that are exposed to the elements and weather may change from very windy to very hot and sunny.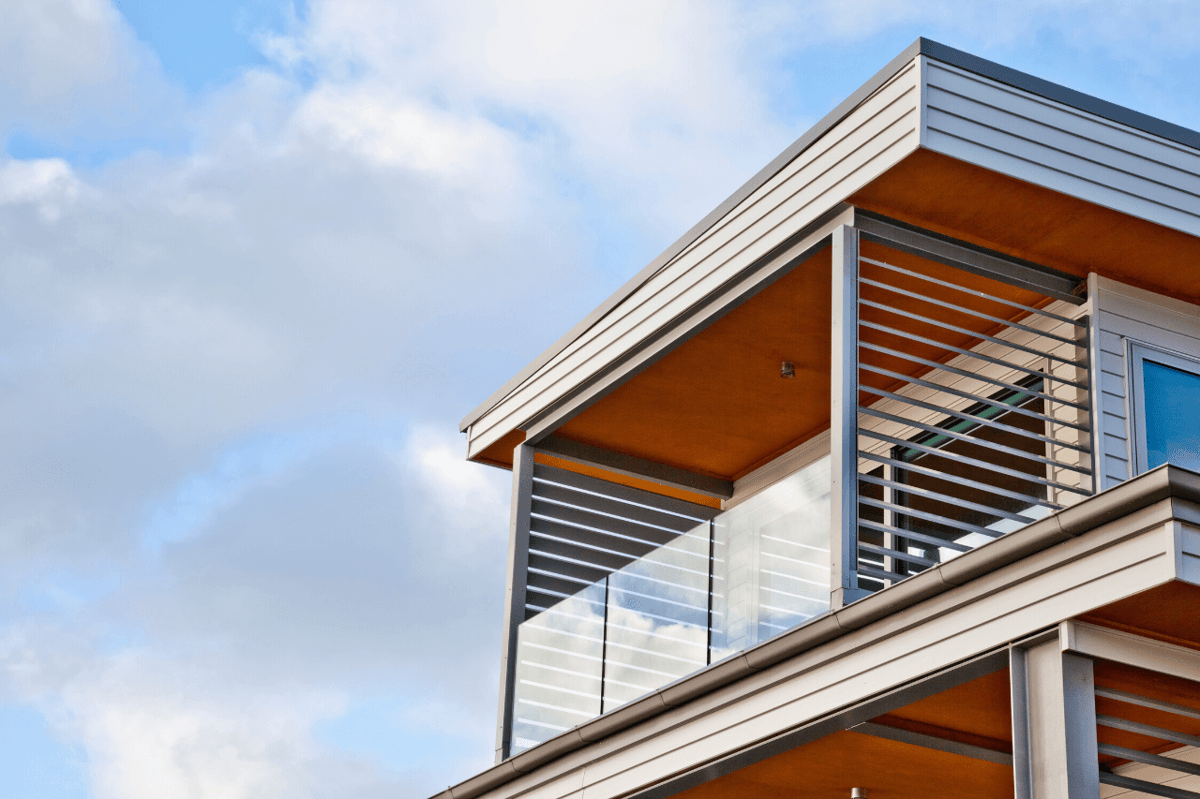 Manual shutters add functionally to this balcony and much needed shelter from the elements.
Motorised
Motorised shutters are great for those spaces that may be hard to reach e.g. up high or for property owners that want to use a lot of shutters on their property, but don't want the hassle of manually having to open or close all shutters.

When motorised and if 150mm x 50mm side rails are used, all motors and electronics can be concealed inside so no wiring will be loose or exposed.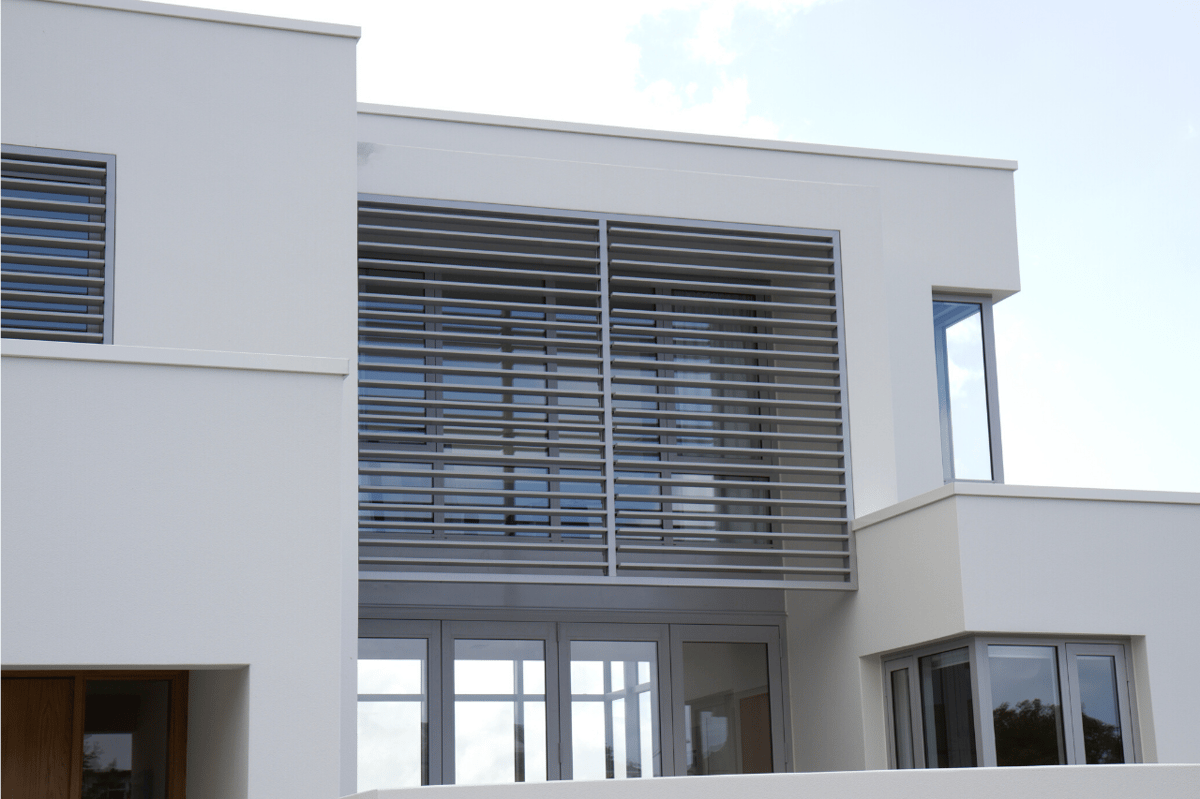 Motorised louvres allow the owners of this property to close or open the shutters at their leisure.
Choosing the right external shutters
What type of shutters you choose and whether you go with fixed or operable louvre blades will generally depend on where you are placing your shutters and if you are wanting shutters for added functionality, or for aesthetic purposes. Fixed shutters work well for properties where you're simply wanting to make your house look good and add a unique feature. Operable shutters are a more versatile option though and with the option to open and close the louvre blades either manually or with motorised functionality, we always recommend you go with this type of shutter, over something that's fixed as the louvre blades can't be moved once installed.

The Aurae range of louvre blades come in three different profiles which are:
Aurora
Aerofoil shape with blade sizes available from 75mm to 600mm.
Solaris
Rectangle shape with excellent span capability. Blade sizes available from 110mm up to 1000mm.
Caldera
Parallelogram shaped with blade sizes available from 88mm to 390mm.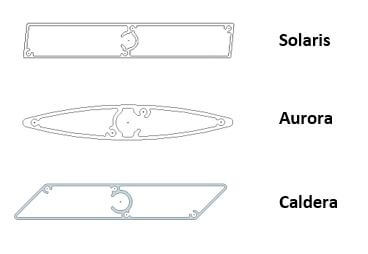 All louvres are manufactured to ASNZ standards and producer statements are available on request.

If you would like to talk to us about adding shutters to your next build or project then get in touch. Our in-house team will liaise with you on what will work best for your project; we can also help with design and will complete shop drawings. Simply provide preliminary drawings and we'll complete the detailing for you.

Looking for inspiration for your current or future louvre project? Download your free copy of our projects brochure by clicking the button below.