While 2020 certainly had its challenges, the team here at Aurae feel lucky to have had the opportunity to work on some fantastic louvre and facade projects this year. From practical spaces to truly mesmerising designs, we had a lot of standouts this year which is why we wanted to share a few of our favourite projects with you.
So whether you're simply interested in seeing some of the louvre and facade projects we completed this year, or perhaps you're looking for inspiration for 2021, you can check out our favourite projects of 2020 below.
Project 1 - Opening louvre roof in Ponsonby

Products use: Solaris opening louvre roof
Location: Ponsonby, Auckland

One of our favourite projects of the year and first to make the list, is an opening louvre roof that we supplied for a residential home in Ponsonby, Auckland.

This stylish property features modern aesthetics and a designated outdoor area to relax by the pool. An opening louvre roof provides another design element to the property while adding more functionality. The homeowners can happily enjoy their outdoor area in any weather – this space will prove particularly useful during warm summer months and will provide a bit of reprieve from the hot sun.

Our Solaris opening louvre roof really is the perfect accompaniment to the modern home as it creates extra space and adds valuable protection from the elements. Add motorised louvres and you'll have a roof that you can open or close at your leisure, all by the press of a button.

The Solaris opening louvre roof can be finished in the powder-coat colour of your choice, so can easily match to the exterior of most properties (like we see with this Ponsonby home).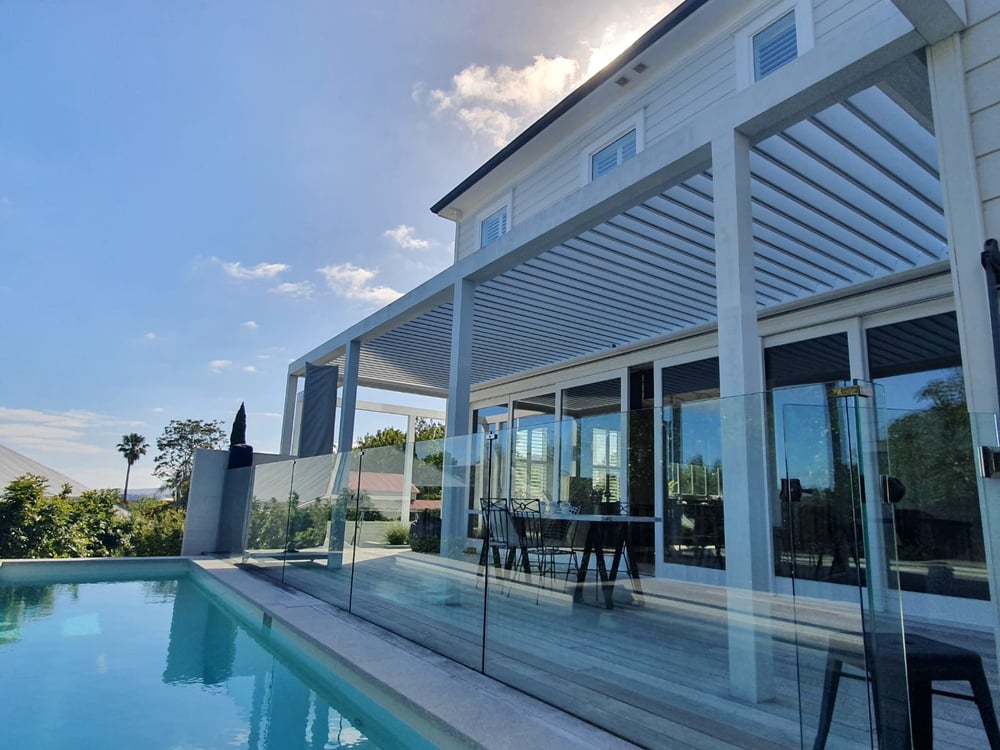 This opening louvre roof provides the perfect space to relax by the pool.
Project 2 - Sliding shutters & operable louvres for townhouses

Products use: Louvre sliding shutters and Caldera 150 motorised operable louvres

Location: Milford, Auckland

Another project that has to be one of our favourites for the year, was the louvre and facade products we supplied for a number of townhouses located in Milford, Auckland.

These luxury lakefront homes are set on the western edge of Lake Pupuke and provide occupants with stunning lake views, and low maintenance living. We worked with the architect to provide louvre sliding shutters and motorised operable louvres, for the exterior of each townhouse.

Sliding shutters were used to give occupants of the properties some privacy should they wish to sit out and enjoy some time on their balconies – they simply slide the shutters across and they now have their own secluded space.

Operable louvres were used on the windows, again for extra privacy, but also for shade control. The operable louvres are motorised so occupants can simply press a button to close them off, or open them up to let extra light in.

Both the sliding shutters and operable louvres were powder-coated black which ties in really well with the aesthetic appeal of the properties.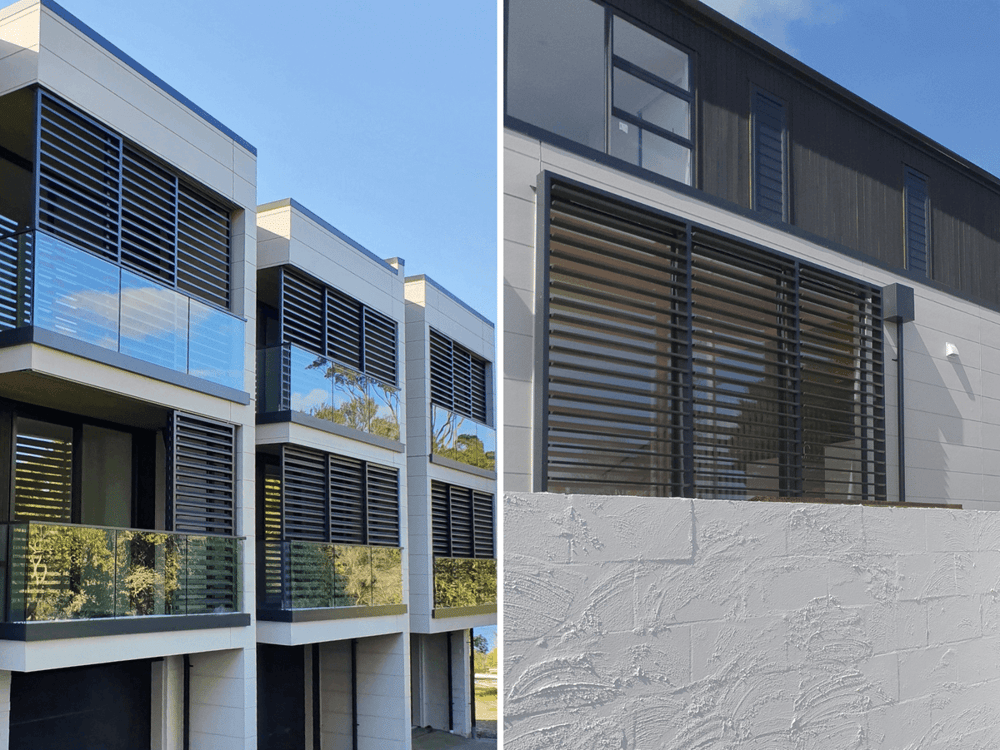 Sliding shutters and operable louvres add privacy to these luxury townhouses.
Project 3 - Opening louvre roof & fixed louvre pergolas

Products use: Solaris opening louvre roof and Caldera 150 fixed louvre pergola
Location: Milldale, Auckland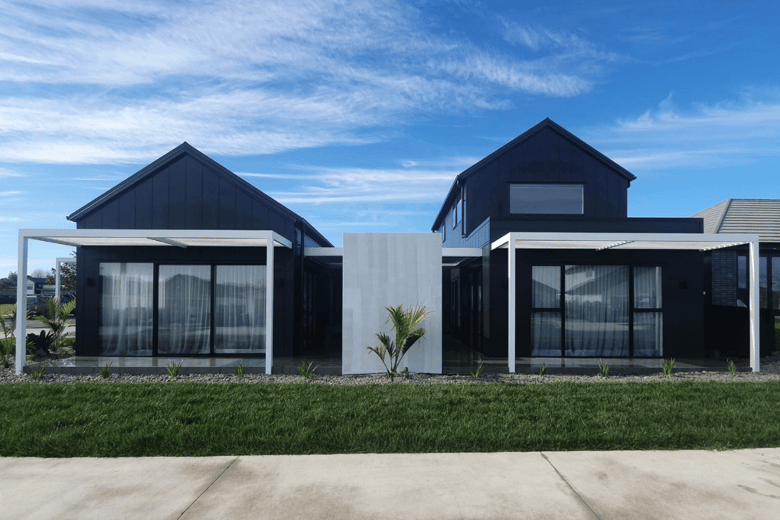 Caldera fixed louvre pergolas.
And lastly to our final favourite project of 2020 – an opening louvre roof and pergolas that were supplied for a residential property in Milldale, Auckland. Milldale is one of Auckland's fastest growing residential developments with many new builds starting to take shape!

We had the pleasure of working with the architect on this project to supply our Caldera fixed louvre pergolas for the exterior of the property, as well as a Solaris opening louvre roof for a separate entertaining area. Both louvre products were powder-coated white to contrast against the black exterior of the property – a simple and aesthetically pleasing match. Another cool feature that can be seen on the opening louvre roof is the LED strip lighting under the gutters which is sure to stand out at night.

We're really happy with the end result of this project and it's been great to see how much of an impact our louvre products have made to this already stylish property.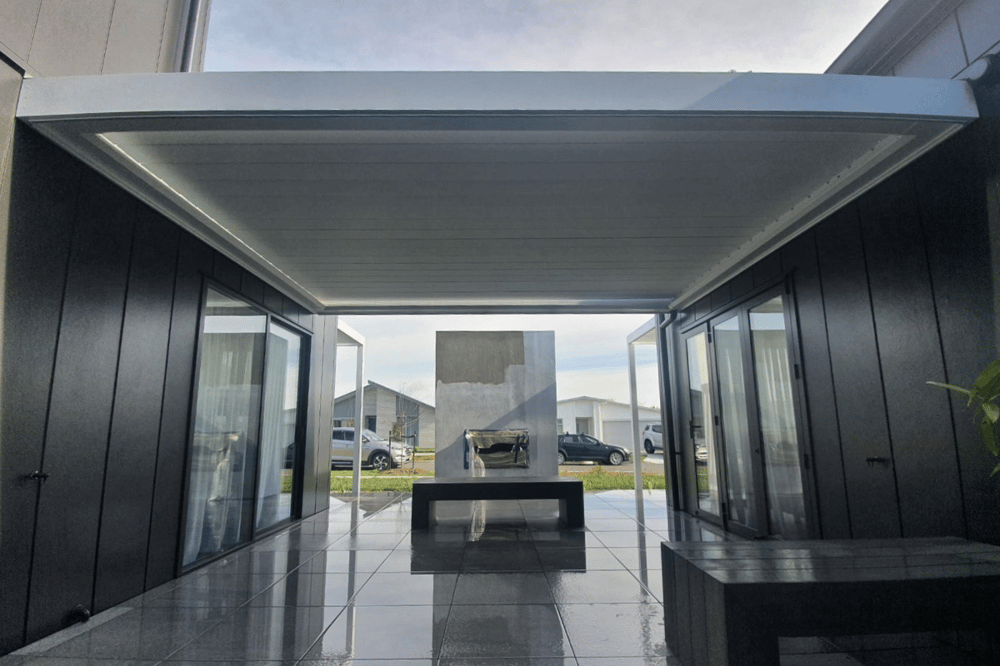 LED strip lighting adds a touch of wow-factor to this opening louvre roof.

We hope that this blog has provided you with a bit of louvre and facade inspiration, and perhaps some ideas for up and coming projects! If you would like to know more about any of the products used in these projects, or if you would like to enquire about how we could help with your 2021 projects, please get in touch here.