As a company that specialises in the design, manufacture and installation of architectural louvres and facade products, there are some common questions that are directed our way when it comes to louvre products, and more specifically, how these are installed.

To make things easier, we've put together a handy blog that covers off some of the most frequently asked questions we receive from our customers. Take a look below.
Can louvres be custom designed?
We often see projects that need a custom-designed louvre or facade to match a specific concept and we are more than happy to accommodate this. Some of the custom louvre projects we have worked on to date include:
Custom aluminium pergola designs
Chimney cowls
Sliding vehicle gates
Pedestrian gates
Louvred fences
Custom balustrade designs
We approach the design of custom louvre and facade projects with a 3 step process:
We discuss the project to gain an understanding of the required outcomes and get agreement on initial design concepts.
Shop drawings are then completed and the design is signed off.
PS1 and engineering calculations are completed if required.
Following this process, we will then complete the fabrication and work with the project's site manager to support the installation.

The options are truly endless when it comes to custom louvre designs and no project is too big or too 'out there! Having designed and built customised louvre solutions across New Zealand we're your go-to team for louvres big or small. If you have a custom project in mind you can enquire with us here.
The Hills residence in Arrowtown features a number of custom Aurae louvre solutions like a motorised louvre facade.
Can louvres be custom finished in any colour I want?
We know that variety is key and that no two projects are the same so it goes without saying that different louvre projects, often require different finishes. From white to matte black and everything in between, we have a large range of colours available, to powder-coat our louvre products (this includes woodgrain). Let your imagination run wild when considering colour options for your project knowing that we have a wide range available for you to choose from.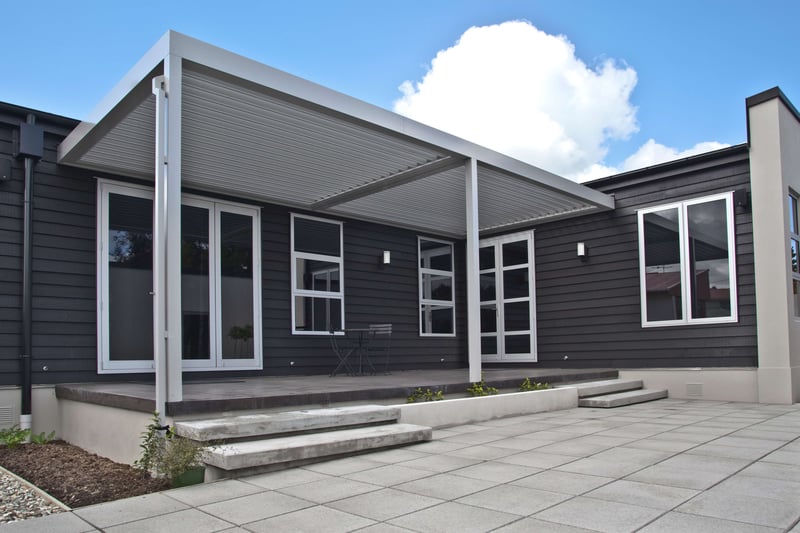 This opening louvre roof is finished in a grey powder-coat to suit the exterior of the property.
Can I attach louvres to an older property?
Like any project that requires building and installation work for a pre-existing or older property, the right structures need to be in place in order to add a new addition. From shutters and louvre roofs to pergolas, if the correct structural support is not in place then added consideration needs to be taken when designing an addition. A major factor when installing louvres to an older property is wind loadings. Before we look at the louvre project, we recommend you consult a builder to ensure that the existing structure will handle the additional wind loads from the louvres.
If you have an older property that you would like to add louvres to then it's best to get in touch with us to let us know what you're wanting to do, along with plans and some photos of the property too. It's worth considering that louvres and facades are quite heavy so the wall will need to be strong enough to hold this new feature while undertaking its originally engineered purpose. Talking to us early is always a good idea, that way we can best assess the work ahead, and decide if we're the right fit for the job.
Who installs your louvre products?
Exceptional quality and ensuring all projects we work on end up with a louvre solution to be proud of is important to us. 95% of our projects are supply and install, so we take care of the installation work with our nationwide team of installers. Our nationwide network of installation crews truly are experts in their given fields and the work they do is something that we're really proud of.

When you use Aurae products on your project, you can be rest assured knowing that they are of an excellent quality and will be installed to a high standard.
What are your louvres made from?
We use aluminium for our louvre products. We use this material for a number of reasons which include:
Flexibility
Aluminium is a very versatile material so it works well for louvres that need to be shaped to different sizes. It gives us lots of flexibility at the manufacturing stage as we can easily mould it to what you require.
Durability
Aluminium is one of the most durable materials on the market that can be used – it's also very lightweight which makes it ideal for projects that require louvres added to the side of the property such as shutters, and fixed louvre blades. Aluminium louvres will stand the test of time and work particularly well for beachside properties as they won't rust.
Making houses look good
Aluminium louvres are so durable that they require very little maintenance. As we've already mentioned, aluminium doesn't rust making it a suitable material to use in most environments – great for use across New Zealand where weather conditions can change at the flick of a switch and rain is common. Aurae louvres used on your property or new project will stay looking good for years to come!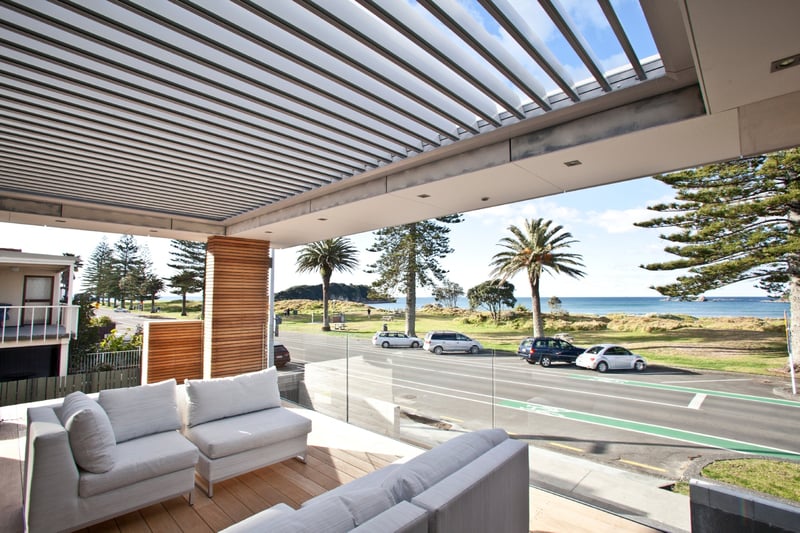 Aluminium louvre blades are great for coastal settings like this one as they won't rust.
How much does a louvre system cost?
The cost of an Aurae louvre solution will vary depending on what you require for your project and the louvre products you need. To get a cost, it's best to contact us with some information on the project, what you will require, and the plans so we know what to supply. From there we can provide an initial quote.

We hope this blog has answered any possible questions you may have, and also supplied you with a bit of extra information on the products we manufacture and supply. If you have further questions around an Aurae louvre system then feel free to get in touch with us.