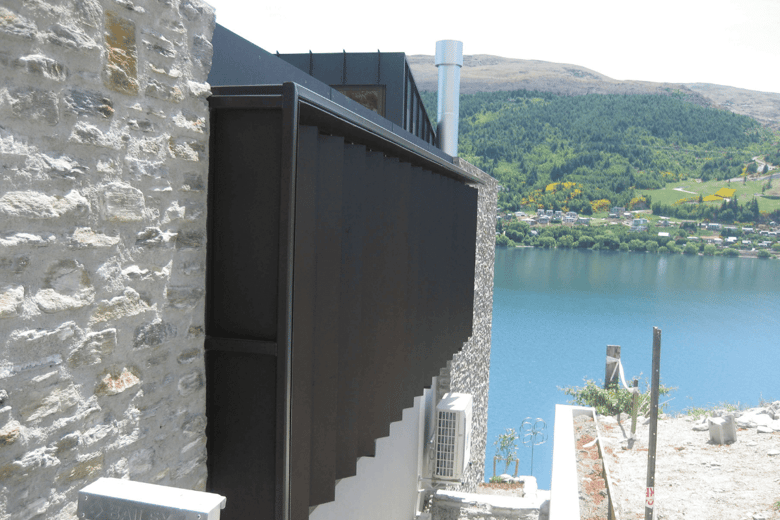 Motorised louvres are becoming increasingly popular in facade design due to their flexible nature. While motorised louvres still serve the same purpose as more traditional fixed louvre blades, by providing shade and privacy to the exterior of a property, the louvre blades in motorised systems are operable.

People want convenience and flexibility with many aspects of their home and the exterior is no different. A versatile and motorised shading solution is a simple way for homeowners to take control of their shading and privacy, all while becoming less reliant on in-home heating and cooling solutions.
In this blog, we've covered the different ways that motorised louvres can be used on a home whether it be for added functionality, or a unique architectural feature. Find out more below plus see some of our operable louvre designs for further inspiration.
Why use motorised louvres?
While traditional fixed louvre blades continue to be a popular option for many, the demand for motorised systems is only growing. More and more we're seeing people lean towards automated systems for their homes – they want smarter, more simple ways that they can control their living spaces and motorised louvres are a fantastic option to achieve this.

Motorised louvre systems use operable louvre blades which means they can be rotated to let the sun in or out or closed off to provide shelter from the elements. Rather than limiting louvres to simply being 'open' or 'closed', motorised louvres can be operated so that they sit at any point between, giving the user ultimate flexibility. Motorised louvres are easy to operate and can be adjusted with a simple switch mechanism – a big bonus for people that want convenience.

Here in New Zealand, the weather can often change in an instant (and many times in one day!). Having an automated system in place will allow the occupants of a home complete control over a louvre system, and their living areas, all year round.
Where can motorised louvres be used on a home?
Whether it's for shade control, extra privacy or a unique architectural statement, motorised louvres can be used in various applications throughout a home. When used in the right setting, motorised louvres also have the ability to seamlessly blend into the exterior of a property.

Here we outline some common ways that motorised louvres can be used on a home, including examples of our work.
Sunshade and weather protection
There's nothing worse than having a fantastic outdoor living area, but only being able to use it at certain times of the year due to unfavourable weather conditions. A motorised louvre system will allow you to take back control of your outdoor entertaining area or patio – whether you need shelter on a wet winter's day or perhaps you want a bit of sun in the warmer months, a motorised system allows you the flexibility to choose whether you open or close the louvre blades.

Many people that choose a motorised system for their property will opt for an opening louvre roof. Opening louvre roofs can also be fitted out with things like lighting, heating and blinds which have the ability to transform a simple opening roof into a complete outdoor room.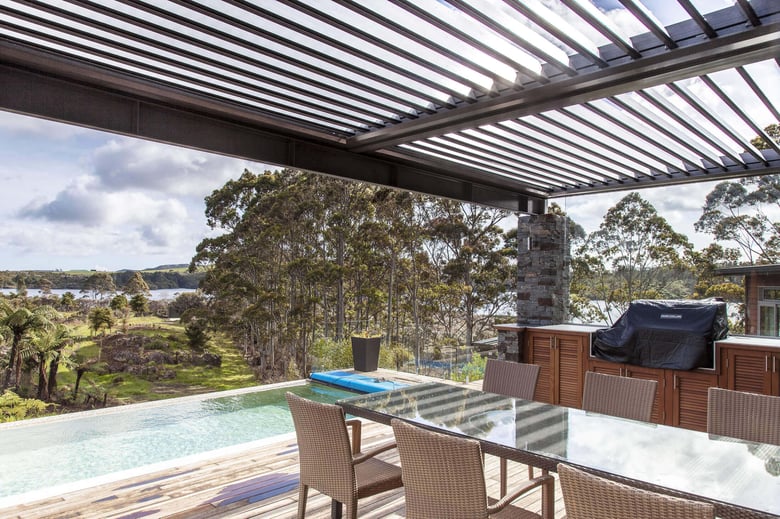 Motorised louvres feature in this opening louvre roof and are perfect for weather and shade control.
Indoor heating and cooling
As well as providing external weather control, motorised louvres can also be used to better control the temperature inside a home. While heating and cooling solutions are still preferred on very cold or hot days, utilising motorised louvres on something like the exterior of your windows could help to cut down the power bill!

For example, by opening the motorised louvres blades on a sunny day during winter you're allowing natural light in. This natural light will help to heat up the home therefore lowering reliance on something like a heat pump to generate heat inside.

On the other hand, if your house gets a lot of sun and you struggle to keep cool inside during summer, then closing motorised louvre blades during the afternoon will help to keep the temperature down, without the need to use a fan.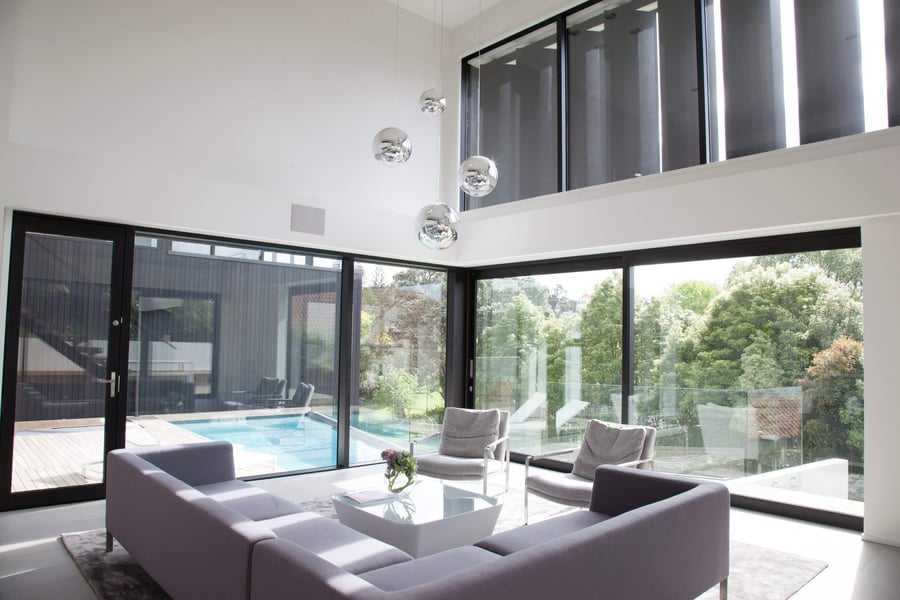 Motorised louvres feature on the windows on this home and can be used for temperature control.
Extra privacy
If your home or project has a lot of windows and you're concerned about privacy, then motorised louvres will also work well in this application.

Sometimes curtains or blinds aren't practical in all spaces in a home, particularly environments like bathrooms which are naturally smaller than something like a bedroom or living area. Motorised louvres are perfect for adding privacy when required. The option to have them motorised also means that you're not stuck with something like fixed louvre blades which don't move at all – you have control over the louvre system.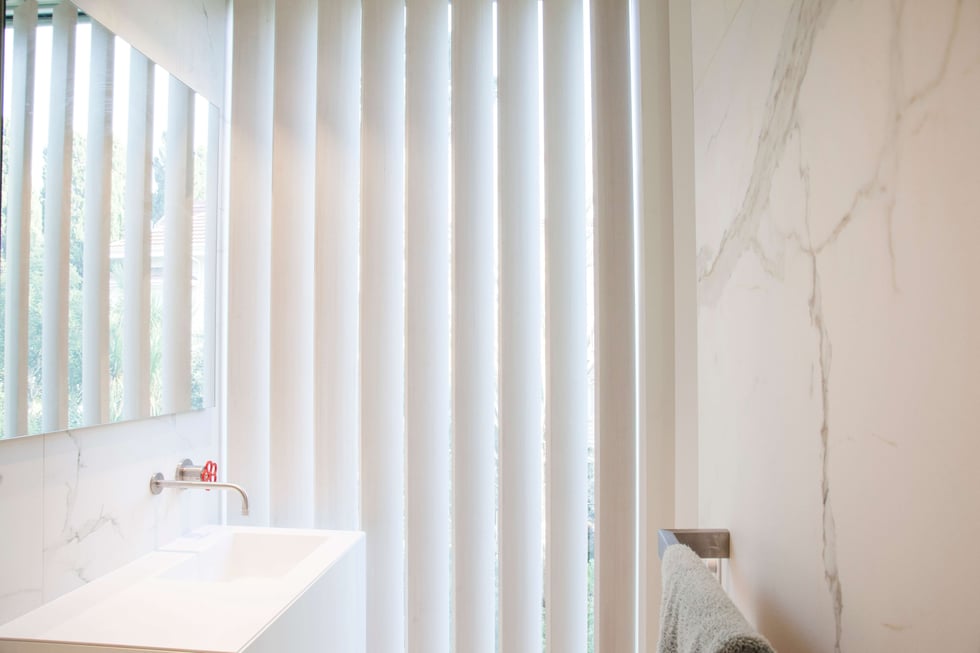 Motorised louvres feature in this bathroom to add extra privacy when required.
A unique architectural feature
The ability to add an architectural feature that's aesthetically pleasing is sure to make any home stand out from the crowd. When used on the exterior of a property, motorised louvres have the ability to make quite an impact!

Louvre blades come in various shapes and sizes and can be finished in a range of different powder-coat colours so that they will seamlessly suit the exterior of most properties. The added practical bonus that louvre blades can also be used for things like shading and privacy make them a great choice for many new builds. Stylish and practical – you really do get the best of both worlds.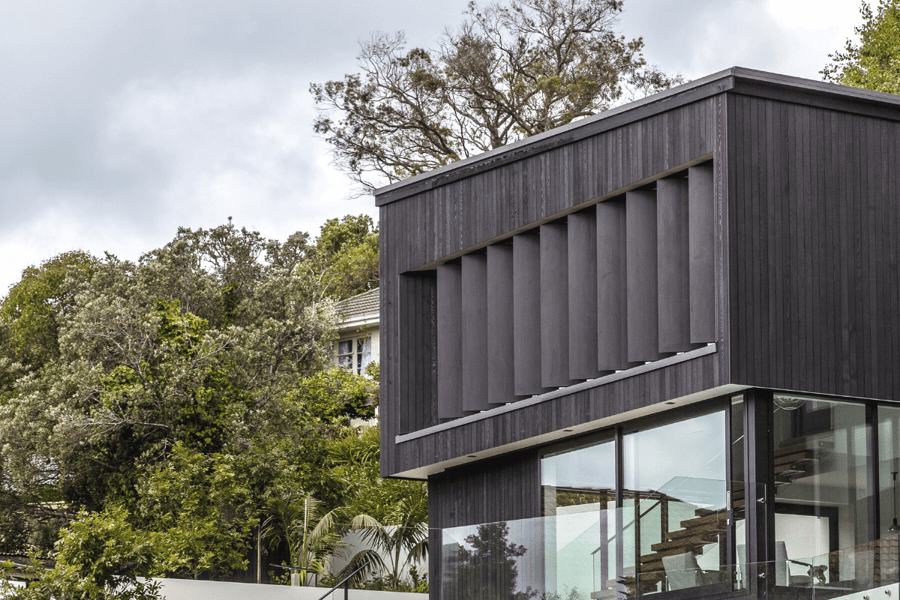 When closed, motorised louvres will seamlessly blend into the exterior of this property.
The Aurae range of motorised louvres
Here at Aurae, we offer a number of different architectural louvre and facade products. Our motorised louvres provide an ideal shading solution for those that want ultimate flexibility and are commonly used for anything from opening louvre roofs, to window coverings. All of the motors and electronics can also be concealed inside the panel frame of our motorised systems which means no unsightly cables or wires are left exposed. An added benefit of choosing Aurae motorised louvres is that they can be designed and engineered to operate as a rear pivot system. This works well for projects where a perimeter frame isn't feasible.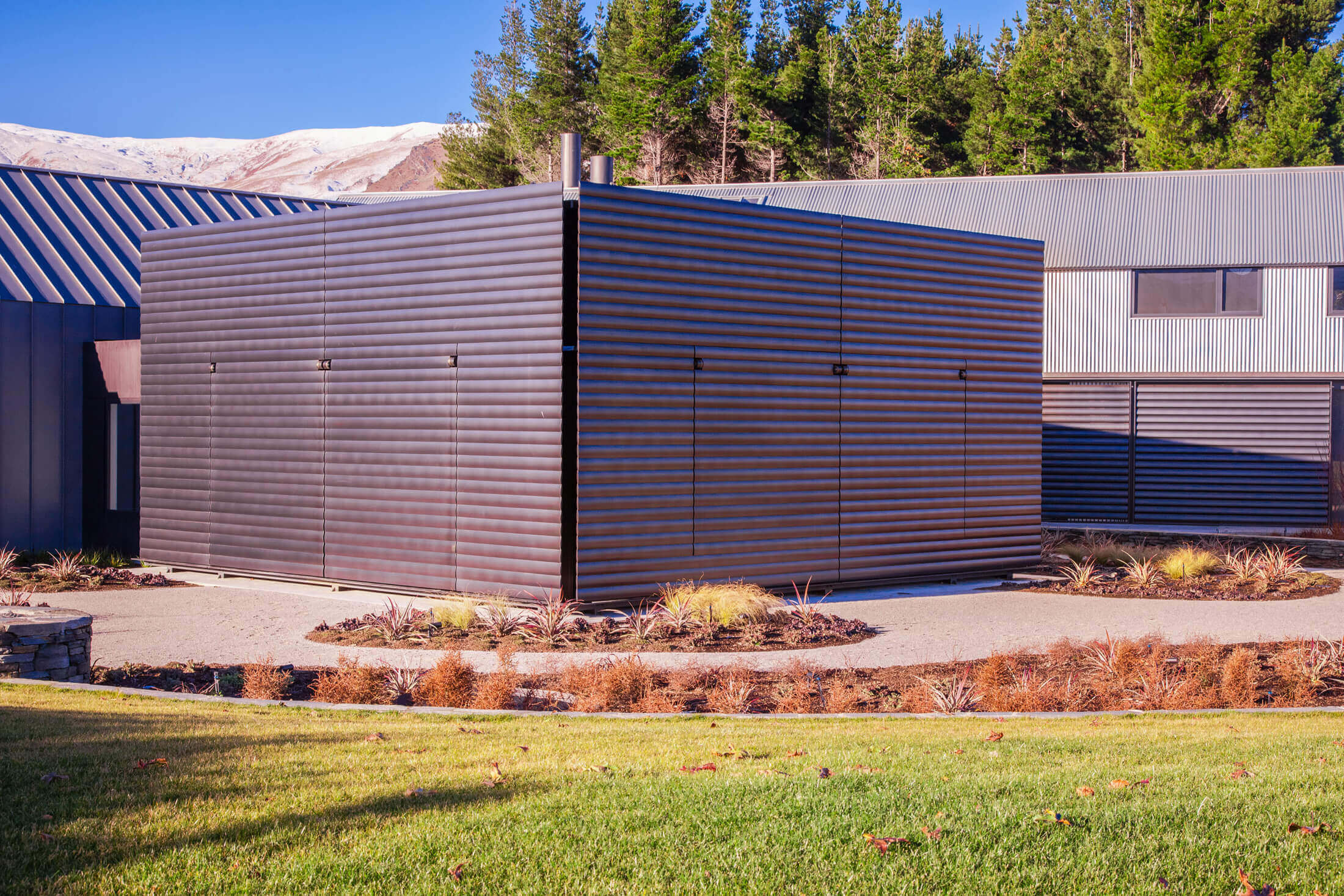 This custom facade features our rear pivot louvre system.
We also give you lots of choice when it comes to choosing a motorised louvre system that's right for your property or project. From choosing your blade profile to the finish of your blades (powder-coated or anodised), you have plenty of options when choosing an Aurae motorised louvre system. And if you're not quite sure what you're after and would like some expert advice to guide you through the process, our team of experts are here to help. Simply get in touch here.

For more details on our range of motorised louvres, you can visit the product page here. For information on motorised opening louvre roofs and to see examples of our completed projects, you can download the free brochure here.