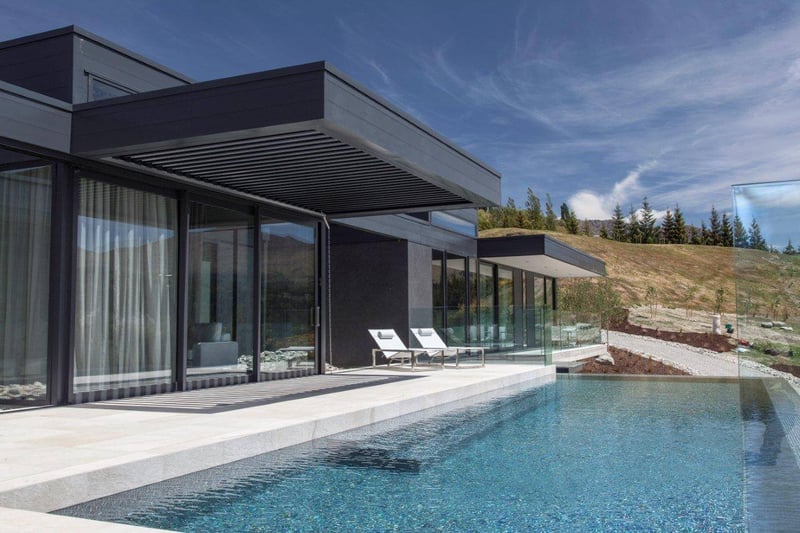 No matter the time of year (or the type of weather), a louvre opening roof system can be a great addition to the outdoor area of any property. Designed to be used all-year-round to make the most of a deck, outdoor room or patio, there are now a range of different options available when it comes to choosing an opening louvre roof that's right for your property or project. And as technology has advanced, so too have the options you have to control an opening louvre roof.
If you're just getting started with an outdoor project it can be overwhelming when trying to choose the louvre roof system that's just right! From different finishes and materials to the type of louvre blades that you'll use, there are some important design factors that need to be considered.

As residential louvre design and installation experts we've covered the different types of opening louvre roof systems available, plus some important things that you need to consider before you get underway with a new sun shading system.

Read on to find out more and see the louvre opening roof systems that we recommend.
Firstly, what's an opening louvre roof used for?
An opening louvre roof is most commonly used to provide sun shading to the outdoor area of a home. As the louvre blades can be opened or closed, they're a very versatile option so can be opened up to let light and ventilation in, or closed on days where the weather is unsuitable for outdoor entertaining and you'd rather keep the bright sun, rain and wind out!

As an extension of a property, louvre opening roof systems are also a great way to add another living area to your property and create what is commonly referred to as an 'outdoor room'. For those people with a big family or who like to entertain often, this type of addition is very handy in creating much-needed extra space. Just add a couch or two, an outdoor heater and some lights and you'll have quite the setup!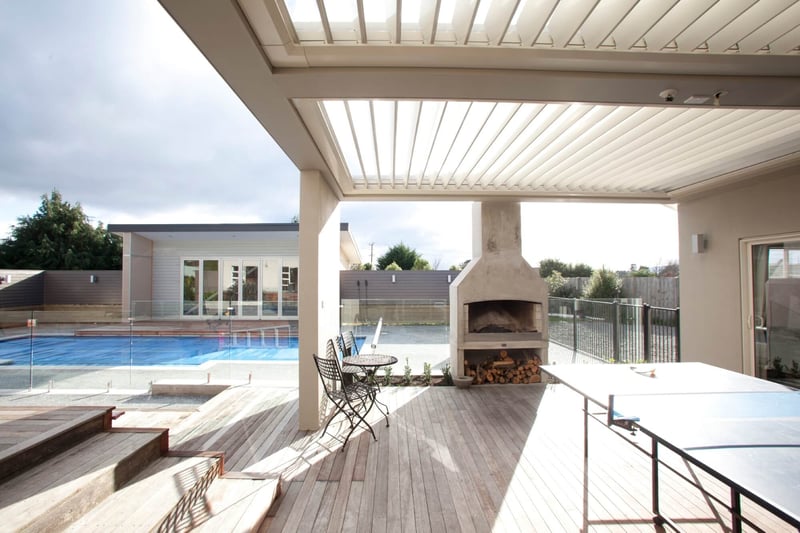 This opening louvre roof provides sun shading and extends the living area of this property outdoors.

Looking for inspiration? View some of our opening louvre roof projects in the free brochure >>
Louvre roof design considerations
There are several design considerations when planning to install an opening louvre roof. From blade type, to manual and remote operation there's lots of different factors to consider. In this blog we are just focusing on the louvres themselves. The design of the support structure also needs to be considered, but this is a subject for another blog.
Louvre blade shapes
One of the first considerations you'll need to think about when it comes to an opening louvre roof is the shape of louvre blade that you will use. Many louvre roof systems have multiple blade types to choose from depending on the style of blade you're after. Shapes include rectangular blades and aerofoil shaped blades (have a rounded edge). Rectangular blades are the most popular due to the flat surface they create when in the closed position. Aerofoil blades are common in villas and other situations where the rippled look suits the property. Spans, wind loadings and snow loadings should be taken into consideration when selecting a louvre blade. Our specialists can help you understand the best type of louvre blades for your environment and use.
Louvre blade surface finishing
Now that you've chosen your blade type, the next decision to make is the finish of the blades! With a vast range of colours available, powder coating is the most popular louvre blade surface finish. If you wish to have a colour outside the standard range, colour matching for custom colours can be done.

The other louvre blades surface finishing available is anodising. The advantage with anodising is that it is a harder wearing louvre blade finish than that of powder coating. The disadvantages compared to powder coating, as a louvre blade surface finish, is the limited number of colours available, and cost.
Electrically or manually operable louvres
A further consideration when thinking about a louvre opening roof system is whether to keep the blades manually operable or to make them electronic.

With the electronic opening louvre roof system, the user controls the louvre blade adjustment through the touch of a button. The button can be via a remote or fixed wall switch. Electrically operable louvre roofs can also be fitted with rain sensors. This is particularly beneficial for people that enjoy soft furnishing underneath their opening louvre roof – the roof will automatically close if it starts to rain.

We are often asked 'what is the cost difference between an electronic louvre roof and a manual louvre roof?' – the answer is very little. The cost of materials and labour required to fabricate the manual louvre roof operating system is similar to the cost of the motor and electronics.
Choose an Aurae opening louvre roof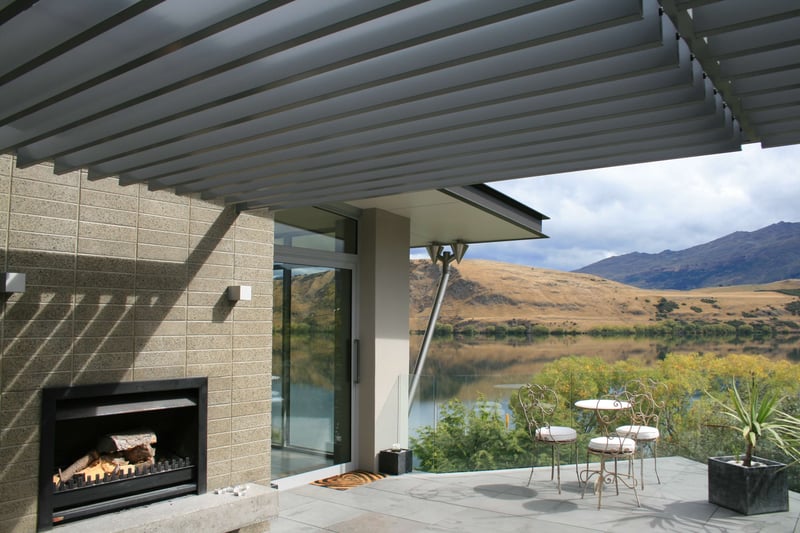 An Aurae opening louvre roof system is the ultimate complement to any outdoor living area. Developed by Insol in the early 2000's, these opening louvre roofs are designed to meet three simple points:
Robust and reliable.
Simple to make, install and use.
Architecturally appealing.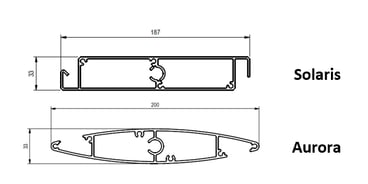 Aurae louvre blade types.

So whether you'll be using your opening louvre roof to take advantage of natural sunlight and ventilation, or for more of an architectural statement to your property, you will have complete control over your outdoor living.
You can find out more about our opening louvre roofs here. Ready to get started on your louvre opening roof project? Talk to our friendly team to get the design process underway!