With a new year underway, now's the time when many of us are planning our next outdoor project. Or perhaps you're picking up where you left off at the end of 2019 and continuing work on new builds and housing developments for clients? Whatever the reason, it's always handy to have a bit of design guidance for your outdoor area!

We've put together a list of five outdoor design trends we expect to see during 2020 – many of which we're already seeing! Make your outdoor space the best it can be with these top tips and ideas.
1. Unique details
More and more we're seeing people move away from standard outdoor designs – they want something different that will make them and their property stand out from the crowd. Attitudes are also changing towards design and a lot of people also now favour bringing the indoors outside which naturally lends itself towards more unique designs not generally seen in outdoor spaces.

One example we're seeing frequently used in outdoor spaces, and something that we've also worked on ourselves are custom façade screens which are used to provide a unique architectural statement, perforated screens are an easy way to add an extra design element that can be swapped out to something different when required.

Take these homes in Long Bay, Auckland. We worked with the builder to provide custom screens which cover the windows on the front of the properties. The unique design and white powder-coat finish gave a quite spectacular end result and really gives these homes a bit of wow-factor.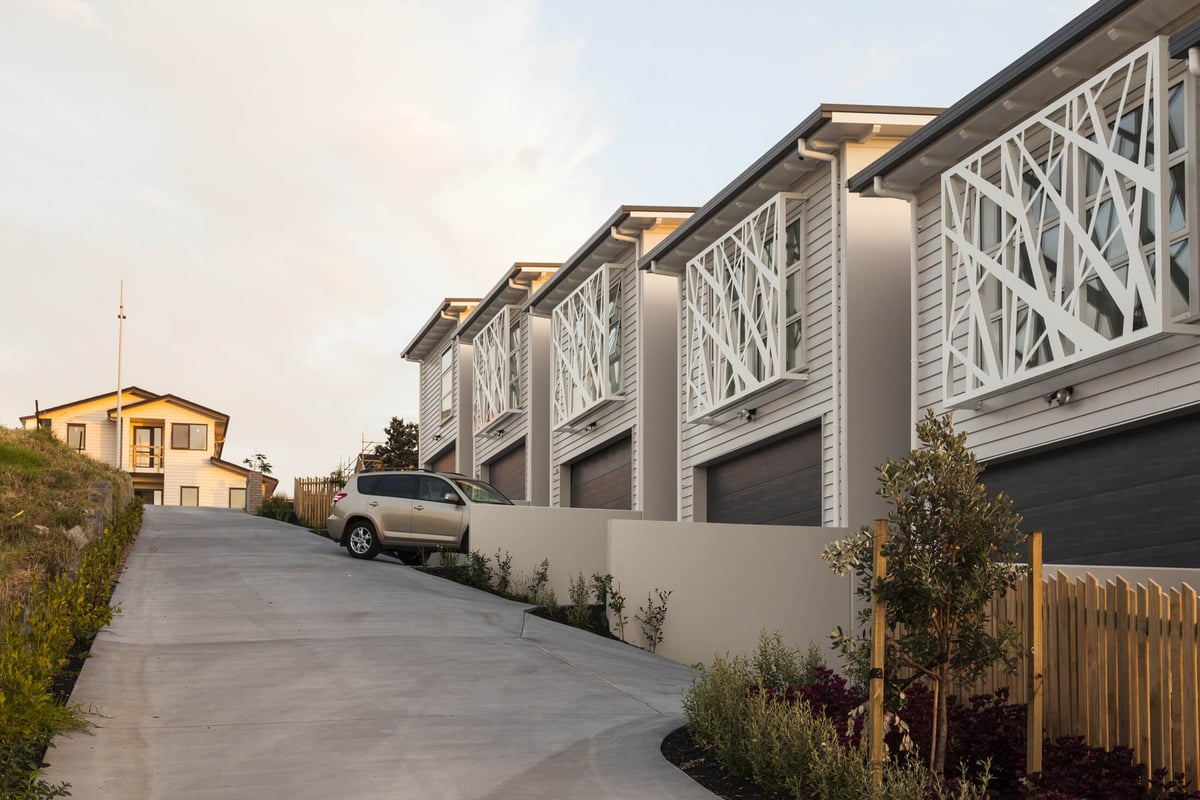 Custom facade screens make quite a statement on these Auckland townhouses.
2. Functional living spaces
While a lot of outdoor design work that we expect to see in 2020 will look to bring character and unique details, homeowners and designers alike are still looking for designs that offer functionality, to make the most of their outdoor spaces.

The resulting effects of climate change and unpredictable weather mean that it's essential you consider all seasons and potential weather conditions for your location when designing your outdoor space. Do you need a shade system to provide protection from heat and harsh sunlight? Perhaps you need an outdoor area that can be closed off to wind and rain? Or maybe you're down south in New Zealand where it's paramount that you have a bit of outdoor heating to see you through the colder months?

Making sure you have appropriate heating, lighting and blinds is just one way that you can make outdoor spaces functional for all seasons. Heaters and opening roofs were used throughout the outdoor living spaces of these Auckland units to make sure the outdoor areas could be enjoyed all year round.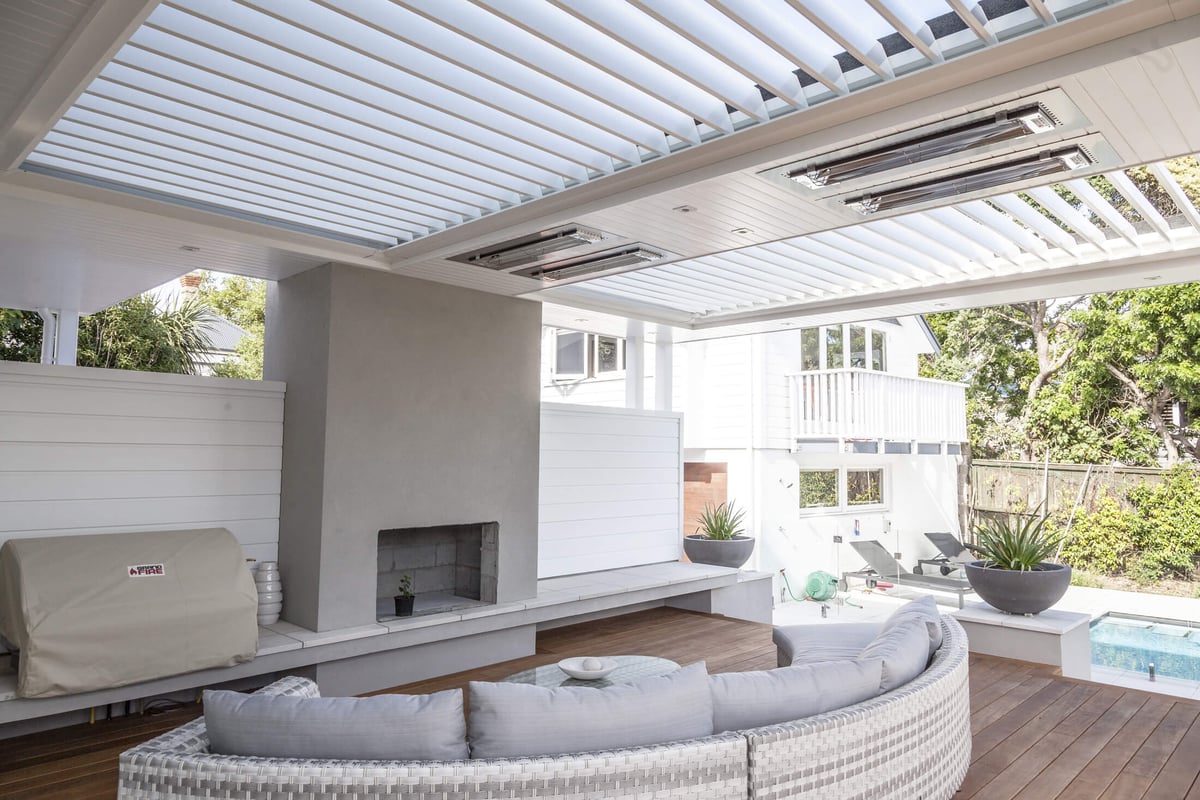 Lighting and heaters make this outdoor space cosy and functional – great for all-year-round use.
3. Powder-coated aluminium
When designing outdoor areas most of us would agree that we want a space that will not only serve us now, but for many years down the track. Because of these materials used to build things like pergolas, and opening louvre roofs need to be able to withstand multiple types of weather conditions, so they stand the test of time.

We see materials like aluminium being used more and more in outdoor areas as it's the type of material that's very versatile so can be used in a number of ways. Aluminium is also incredibly durable and also resistant to coastal conditions, making aluminium the perfect choice for the beach house, or a coastal home in New Zealand.

Another great thing about aluminium is that it can be powder-coated to almost any colour you require making it great for those who have a specific colour palette, or those who want to match an existing colour on a property.

For this project in Mellons Bay, fixed aluminium louvre panels were added to the front of the property and finished in a black powder-coat to make the overall effect even more striking.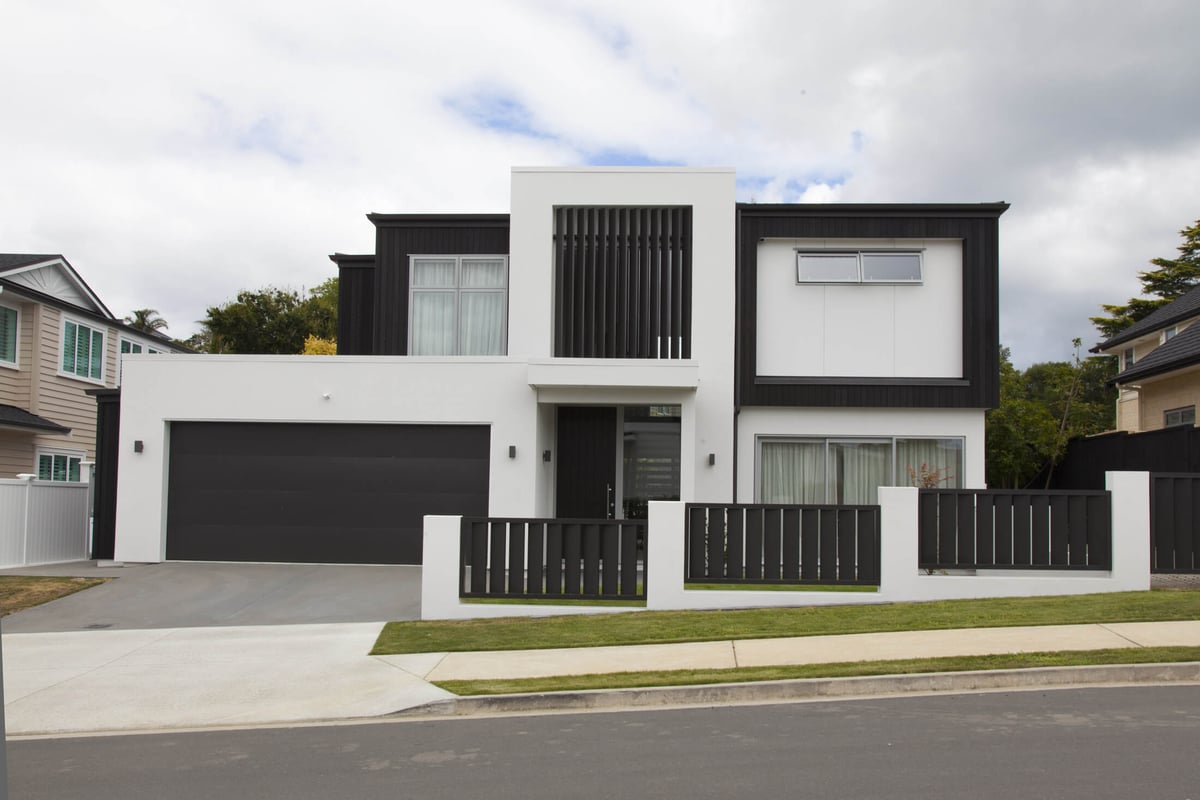 Aluminium louvres finished in a black powder-coat add to the striking monochrome effect of this home.
4. Shutters
What might have been seen as something that was going out of fashion a few years ago, shutters are most definitely making a comeback! Over the past year, we've been receiving more and more requests for outdoor designs to include sliding shutters on the outside of properties. Not only do sliding shutters add quite a remarkable effect to the outside of a home, but they're also a great way to provide some extra privacy – so great for suburban areas.

While sliding shutters are proving to be very popular, we're also getting requests for fixed shutters. These are another great option for those people wanting extra privacy as the fixed nature of the louvre blades mean that they can't be adjusted. They're also another good way to add a unique architectural statement to your property.

The new build featured below has sliding shutters across the second storey windows to give the occupants of the property extra privacy when they need it. The white finish of the shutters also adds to the overall effect of this designer home making it one to be admired.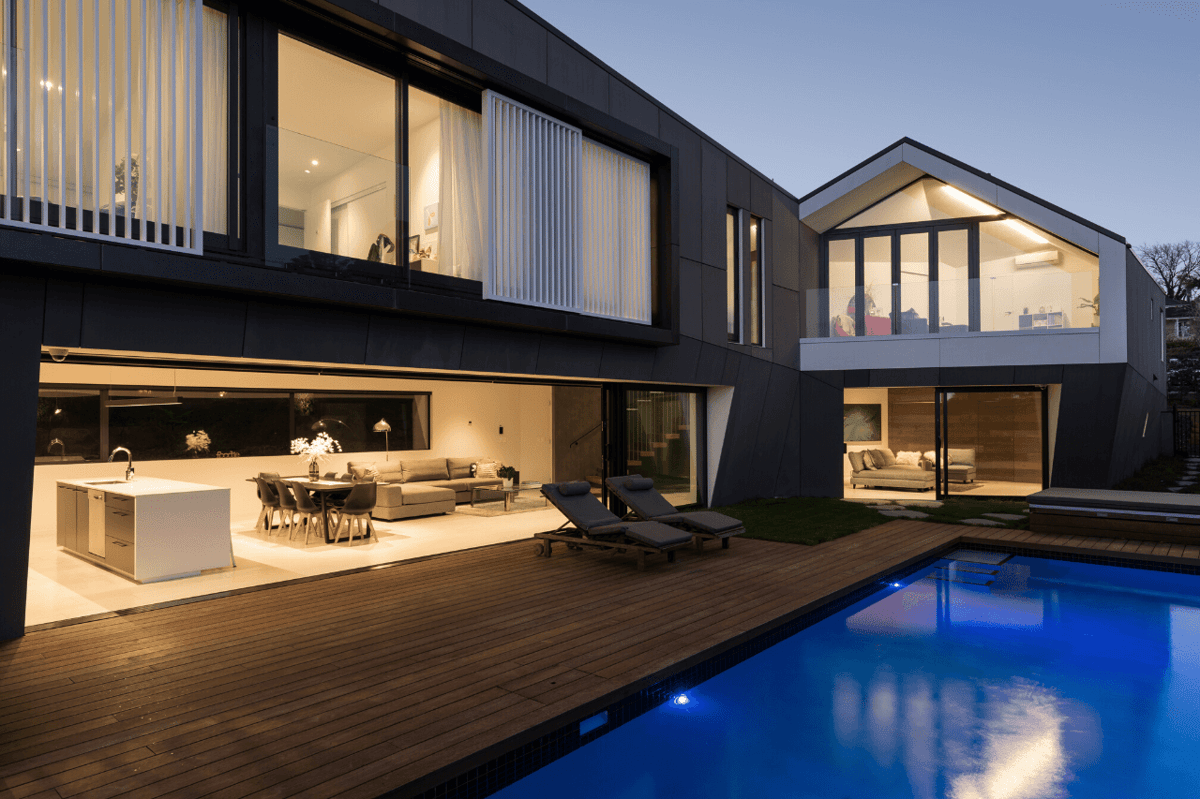 Sliding shutters add wow-factor and privacy to this designer property.
Find out more about this project in our free projects brochure >
5. Elaborate patios
As people get more creative with their homes, they're now thinking more outside the box when it comes to living areas like patios. What once used to consist of a small table and a few chairs, patios that we're seeing now have grown to be much more elaborate and full of features that you're more likely to see on the inside of a home.

Features like fire pits and pizza ovens for cooking as well as couches and televisions to relax and unwind are becoming popular. We don't see this trend stopping any time soon, if anything we see it growing even more!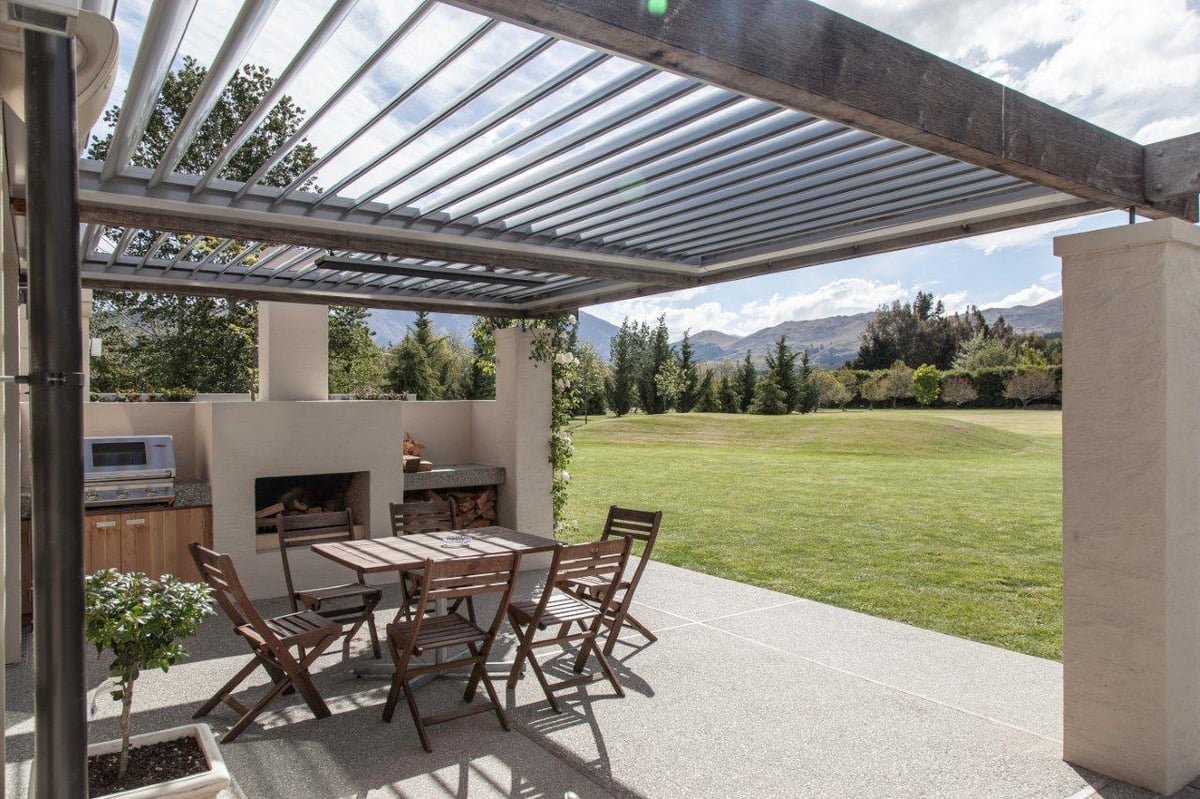 This outdoor patio has it all and boasts an outdoor kitchen, opening roof, heaters and a fire.
With all the trends we expect to see this year, 2020 is going to be an exciting one on the design front. We know we're looking forward to the different types of louvre projects we have lined up!
If you think you'll be using any of these design trends on your future projects, or you think there are other trends you'll be looking towards for ideas, let us know in the comments section below! For further louvre and facade design inspiration, take a look at some of the projects we've recently completed here.