Whether your backyard consists of a few acres or perhaps you've only got a small patio to work with, there are now endless options for outdoor home design. From outdoor rooms to mixed materials we've covered five outdoor trends to keep an eye on for the rest of 2019. Maybe you're considering a few already for your next project or home reno?

Get inspired and find out how you can make the most of your outdoor space with these top trends.
1. Outdoor rooms
Possibly one of the biggest trends we've seen so far this year is the rise of the outdoor room. Most homeowners love the idea of extra space, and adding an outdoor living room is an easy way to achieve this. Not only do they give you extra room for entertaining and relaxing with family, but they're also a great way to bring in a bit of indoor/outdoor flow. Outdoor rooms are also great for NZ homes as the weather can often be temperamental, so having an outdoor space that you can enjoy in any season is a must-have for many Kiwis.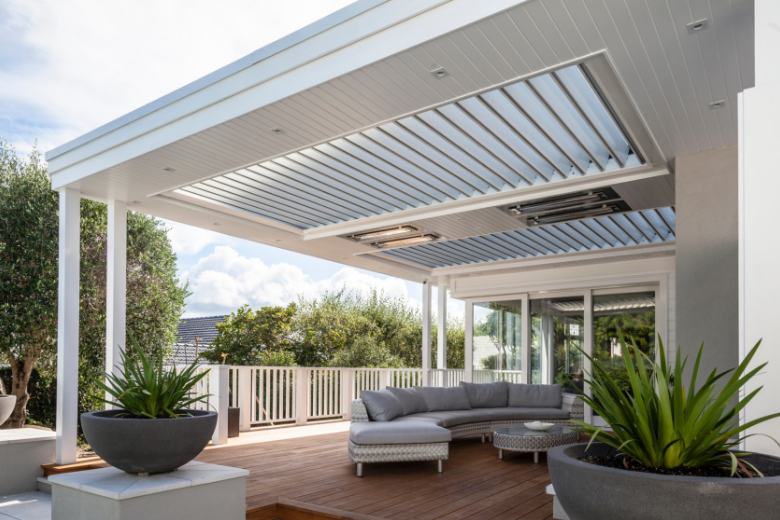 The owners of this property extended their living area with an outdoor room.
We've seen some amazing outdoor rooms that are made even more inspiring by the design features that have been added such as opening louvre roofs, and fireplaces.


Opening louvre roofs
Opening louvre roofs were made for outdoor rooms! The Aurae opening louvre roof is the ultimate compliment to any outdoor living space, giving you the ability to open your roof to take advantage of natural sunlight and ventilation, coupled with the option of closing it to provide a weatherproof shelter when required.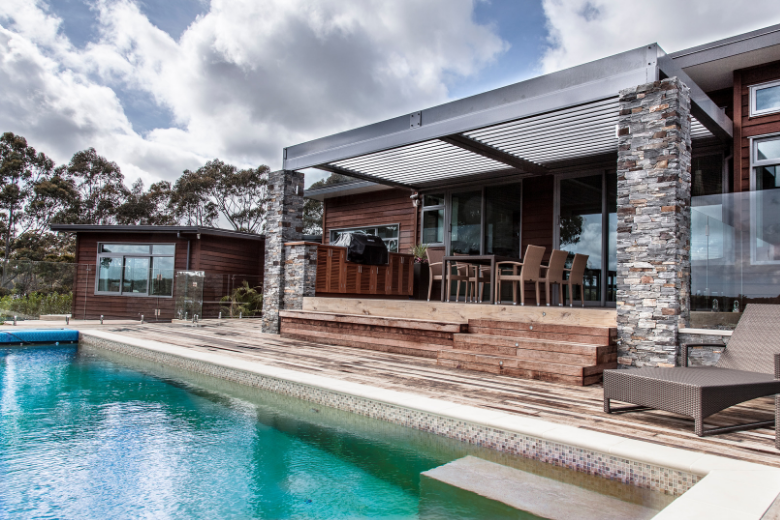 You're protected rain or shine with an opening louvre roof.
Fireplaces
What better way to keep nice and warm on a cold night, than with an outdoor fireplace. Not only are they incredibly practical for outdoor spaces, but they are also a great way to make a design statement. A company like Trendz specialise in outdoor fires and have a great range of different models available to suit most outdoor spaces.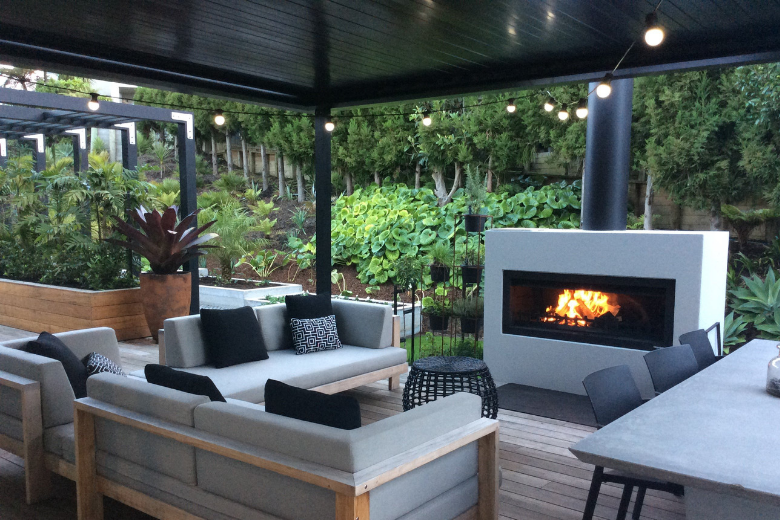 Trendz, The Burton Outdoor Fireplace.
Furniture
An outdoor room is often seen as another living room, so what better way to make it feel homely than by adding some furniture. Having a range of outdoor furniture is also great for those people that like entertaining as your guests will always have somewhere to sit!

From couches to day beds and hammocks the options are endless! When considering furniture for your outdoor room it's not only important to consider what will look good, but what will last in all weather conditions. This is particularly important for homes close to the sea or those outdoor areas that may be affected by harsh wind or sun.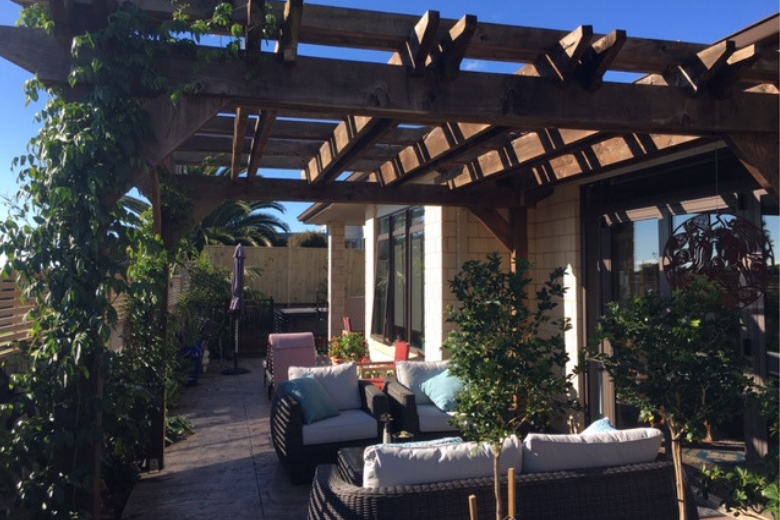 Outdoor furniture works well for entertaining in this space.
2. Patios
The quintessential Kiwi summer often consists of meals with friends and family out in our own backyards. Having somewhere nice to enjoy these meals is growing in popularity with many homeowners now wanting a dedicated space or patio area to host their outdoor dining furniture.

With patios comes the pergola. You can use an aluminium pergola to add a unique architectural feature and provide sunshade to your home. With a fixed louvre infill and an aluminium frame, these pergolas make a striking addition to any property and are perfect for outdoor settings like patios where you want some extra shelter.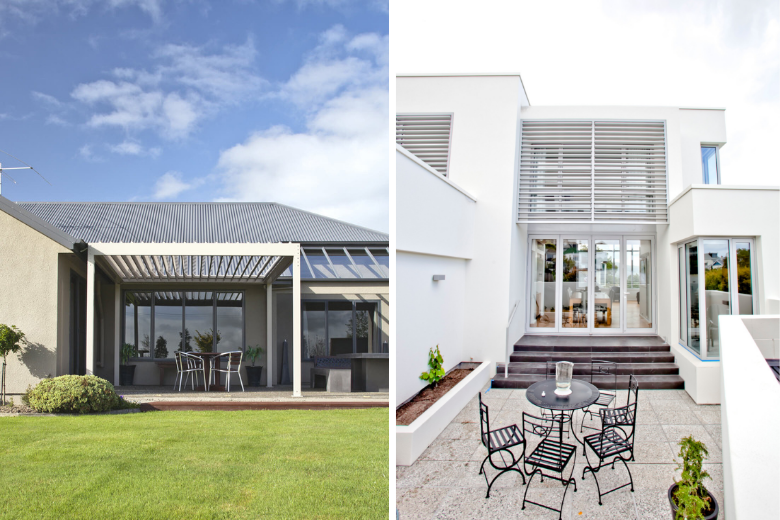 Left: Patio with a pergola; Right: Patio without a pergola.
3. Mixed materials
Gone are the days where homes consisted of purely one material in their outdoor spaces. Quite frequently we are now seeing homes where there's a multitude of different materials featured outside, often used as a unique architectural statement and to showcase different textures.

Proving increasingly popular in 2019 is the use of timber with a metal like aluminium. When used on its own metal tends to look harsh and uninviting. When paired with timber, however, it can completely change the space. Timber is seen as a warmer material so when paired with something like aluminium it's the perfect mix of cool and warm.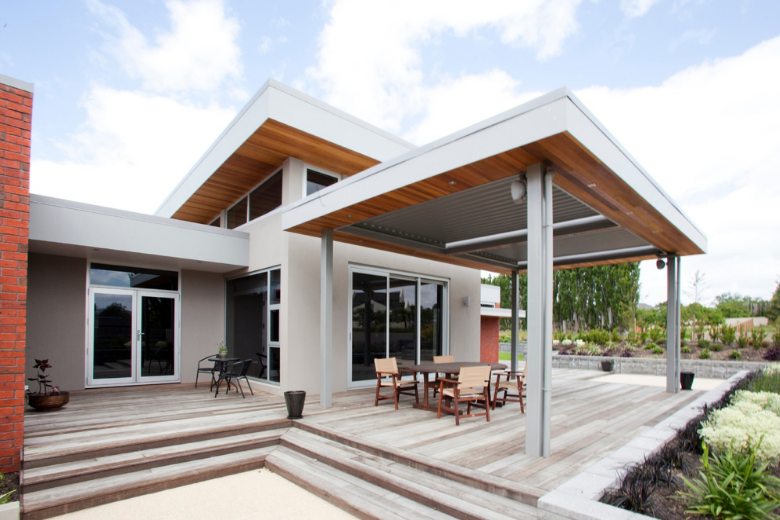 Adding timber features has softened the look of this outdoor area.
4. Design statements
Homes with added 'wow-factor' are becoming the new norm as homeowners become more design savvy and willing to push boundaries. There are lots of ways that you can make a design statement to the exterior of your home. One particular trend that we're seeing is the use of custom louvres to add and an extra design element.

We've been lucky enough to be involved in projects where the homeowners have asked for louvres that will make their outdoor area stand out. We've been happy to provide custom solutions for these projects like the Hills residence in Arrowtown featured below.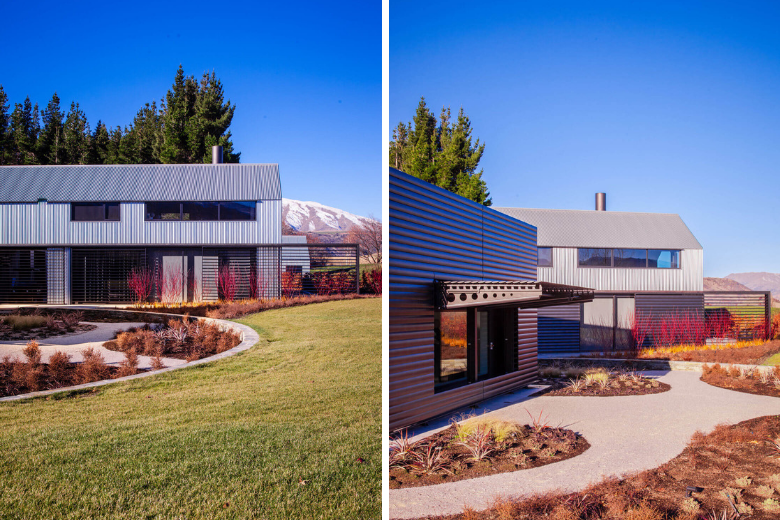 The Hills residence features a number of custom exterior louvre solutions.
5. Functionality
Advances in technology mean it's now not out of the ordinary to see things like a cinema in your neighbour's backyard! As well as being a practical space for people to unwind and spend time with loved ones, homeowners are now increasingly looking to improve the functionality of their outdoor areas with things like heaters, lights and blinds.

Why not take your outdoor living to the next level and cover the sides of your outdoor room with PVC or mesh blinds. Or perhaps you're more interested in sliding louvre shutters to keep the wind and cold out? Top it all off with lighting and heaters to add to the outdoor living experience, and so you can enjoy your space during any season.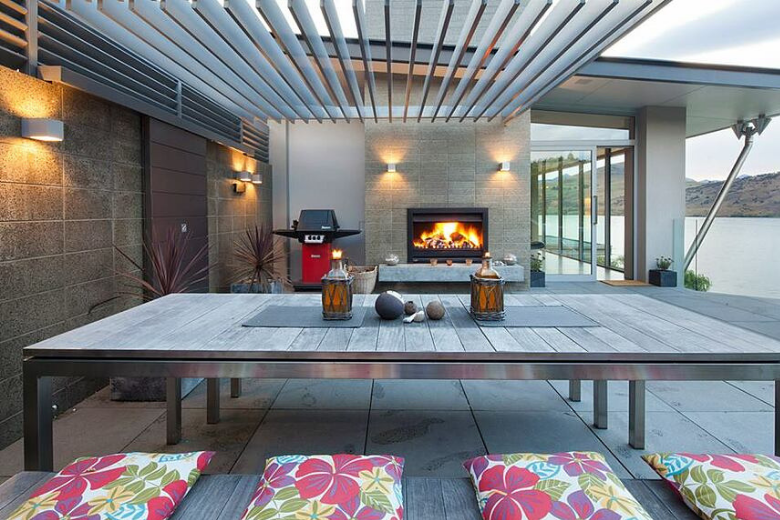 Lighting and heating make this impressive outdoor space functional.
Want to find out how you can add to your outdoor space? Share your ideas with us and we can help provide a suitable louvre or pergola solution for your home or project.

Get further home design inspiration by taking a look at our style guide, full of inspiring NZ louvre designs. Download your free copy by clicking the button below.